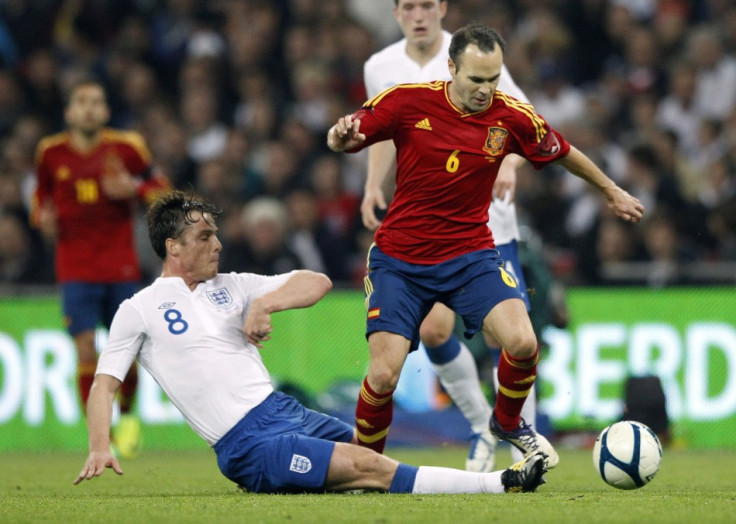 Sky Sports pundit Jamie Redknapp has questioned Fabio Capello's decision not to take Tottenham Hotspur midfielder Scott Parker to the 2010 World Cup finals following the player's superb performance against Spain on Saturday.
The White Hart Lane star has emerged as one of England's most consistent performers over the last year and a half, and is sure to be part of the squad that travels to Poland and the Ukraine for next summer's European Championships.
Parker's stunning form, which culminated in him winning the Football Writers' Player of the Year last season, has continued following his move from West Ham United to Tottenham, and he was once again an instrumental presence in the heart of Fabio Capello's midfield during England's 1-0 victory over the World champions at Wembley.
The aforementioned former Liverpool and Tottenham midfielder believes Parker's form has made Capello's decision not to take him to the World Cup finals in South Africa in 2010 even more remarkable. Parker was part of the 30-man provisional squad prior to what proved to be a disastrous campaign for England, but Capello chose to omit the 31-year-old despite a string of brilliant performances in training.
"I texted Scott Parker on Sunday to say 'Well done, mate'. I got one back that said he felt like he had been hit by a train!" Redknapp told the Daily Mail.
"He was outstanding in repelling the Spanish attacks, always disciplined and returning to his position as guard in front of the back four. For this type of game, he is England's most valuable player.
"So, Fabio, why didn't you take him to the World Cup?"
In the aftermath of his man-of-the-match display against Spain, in a performance Capello described as "simply incredible", Parker illustrated the humility which has made him one of the most popular players in the current England setup.
"In one way, I have to pinch myself that I am going out to represent my country. It was a massive moment - one I will always treasure. You watch these players on TV and it was a pleasure to play them in real life. To get the result is even better."
Despite being widely tipped to be a certain starter for EURO 2012, Parker suggests he will never take his place in the side for granted.
"There is no complacency, I realise how tough it will be and I need to maintain my form. There are a lot of players all playing and others who are coming back into the squad." He said.
"Obviously, I have come a long way in terms of the last six months. I was not involved then but for the manager to say nice things about me is very pleasing."