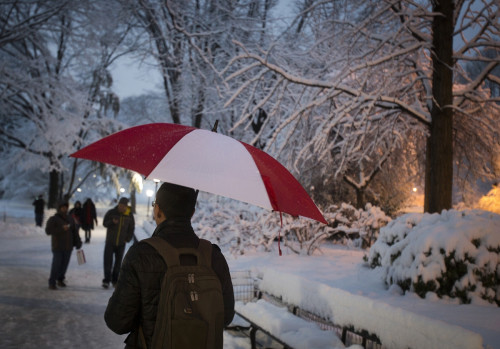 Two winters storms have caused over 1,000 flights to be cancelled to New York and parts of the US Midwest.
Winter Storm Maximus battered New York with up to eight inches of snow, leaving thousands stranded as flights were cancelled. According to The Weather Channel, airport officials told 1010 WINS that they had prepared cots and pillows that were left stranded last night.
As well as national and international flights, subway lines and city buses were also affected by the snow. Inbound flights have also been delayed, with many people waiting for hours.
JFK International advised passengers to check the status of their flights before leaving home, noting that delays are expected.
Mayor Bill de Blas said: "Things are going to be messy today. Snow is coming down faster than we can plough it, we have a very aggressive ploughing operation going on, but the snow is coming down very rapidly."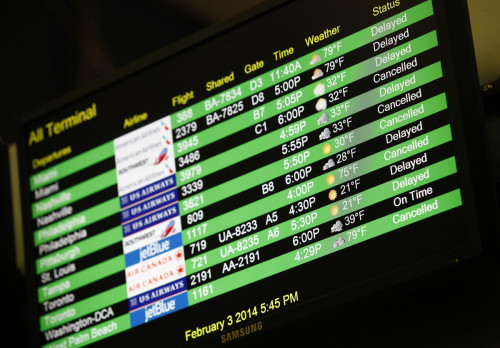 One man died as a result of the snow. A 73-year-old man was killed in Brooklyn when he was struck by a snow plough removing snow at his apartment.
Snow is likely to hit New York again over the next 24 hours, before changing to a mix of sleet and freezing rain.
Following Winter Storm Maximus, Winter Storm Nika is expected to bring further chaos to parts of the US, with the Plains to the Midwest and Northeast expected to be affected by snow and sleet on Wednesday. Significant travel impacts are expected across all areas.
Winter Storm Nika will dump most snow on the area between eastern Colorado and the northern Texas Panhandle, including Kansas, Nebraska, Oklahoma Missouri, Ohio and Michigan. Over ten inches are expected in these areas.
The Weather Channel is also warning of poor visibility as a result of increasing winds, as well as ice accumulation, tree damage and power outages in parts of Pennsylvania, Maryland, Virginia and West Virginia.