Indonesia: Police arrest 5 people after Molotov cocktail attack on church kills toddler
Possible links to the Islamic State extremist group are being investigated, police say.
The Indonesian police on Monday (14 November) arrested five people in connection with the Molotov cocktail attack on a church that killed a two-year-old girl. The dead toddler was among the four children who got injured on Sunday in the suspected Islamic militants attack.
Possible links to the Islamic State (Isis) extremist group are being investigated, the police has said.
According to East Kalimantan police spokesman Fajar Setiawan, the toddler - Ade Intan Marbun - died from complications after suffering burns to more than three quarters of her body. "It affected her respiratory system and efforts to save her failed and she died early Monday," the spokesman said.
Setiawan added that the other three children have suffered less serious injuries and were still being treated in hospital. "We hope they can come home soon," he said.
Children were playing in the parking area of the Oikumene Church in Samarinda on Borneo island when the 32-year-old militant wearing a black shirt with the words "Jihad, Way of Life" threw bomb from a motorcycle as he rode past the church area.
The attacker, identified by police as a former terror convict from the West Java town of Bogor, was captured by locals after jumping into a nearby Mahakam River and later handed over to police.
"The perpetrator has been arrested. Just trust the law enforcers to nab his network," Indonesian police chief General Tito Karnavian said.
It was found that the militant was involved with a bomb attack in Tangerang, Banten, on the outskirts of Jakarta and several other bomb attacks in the Indonesian capital in 2011. He was sentenced to three and a half years in prison before being released in July 2014.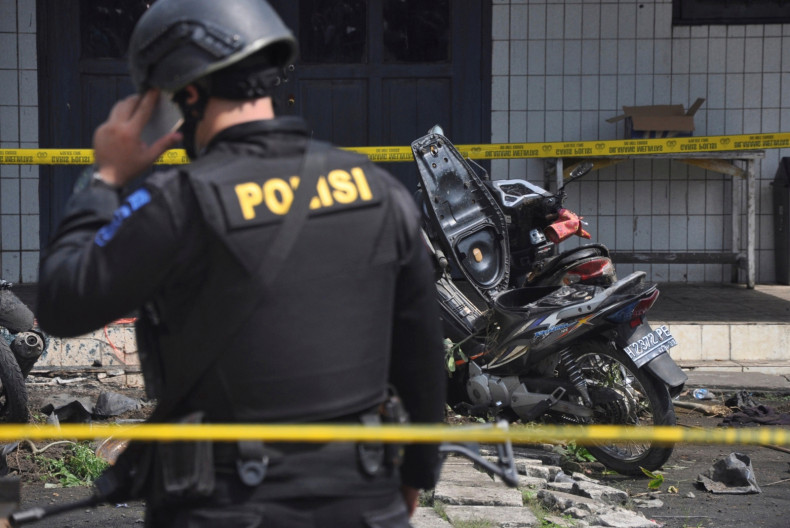 The Sunday bomb attack was the second explosion at a church in the country in 2016. In August, a man believed to be the follower of Islamic State injured a priest with an axe during Sunday Mass in a church in Madan, the provincial capital of North Sumatra. He also tried to explode a bomb.