Ed Miliband has pulled out of a talk at the Oxford University Labour Club (OULC) over increasing concerns about allegations of anti-Semitism by its members. The former Labour leader said he was "deeply disturbed" by the claims and has postponed a speech due to be held at the club's John Smith Memorial Dinner on 4 March.
Labour announced they are launching an investigation into the claims some of its members "have a problem with Jews", which stemmed from the resignation of one of its co-chairs, Alex Chalmers.
The Oxford University Jewish Society (JSoc) said since Chalmer quit his role in the wake of the club's decision to endorse Israel Apartheid Week, several more members of the OULC have come forward with allegations of anti-Semitism by senior members of the club.
These included individuals repeatedly using the word 'Zio' - a term used in websites run by the Ku Klux Klan or Neo-Nazi groups - to refer to Jewish students, as well as showing support for Hamas and suggesting all Jews are "legitimate targets".
Miliband, who was previously a member of the club alongside his brother David, has now postponed his talk until the investigation is complete. A spokesperson for the North Doncaster MP said: "Ed is deeply disturbed to hear of reports of anti-Semitism in the Oxford University Labour Club. It is right that the executive of the club has roundly condemned the comments and fully co-operates with the Labour Students' investigation.
Allegations against OULC members
Several people, all of whom have been on committee, have been known to sing the song 'Rockets over Tel Aviv'.
One member stated specifically that it was 'not anti-Semitic' to allege the existence of a 'New York – Tel Aviv axis' that rigs elections, and said that 'we should be aware of the influence wielded over elections by high net-worth Jewish individuals'. He also stated that it was 'not anti-Semitic' to allege the existence of an international Jewish conspiracy, even though he did not endorse the idea himself.
One member, then on committee, stated that all Jews should be expected to publicly denounce Zionism and the state of Israel, and that we should not associate with any Jew who fails to do so.
Several members have alleged that US foreign policy is under the control of the 'Zionist Lobby' and when asked if by 'Zionist' they simply meant 'Jewish' they went very silent.
One member of OULC was formally disciplined by their College for organising a group of students to harass a Jewish student and to shout 'filthy Zionist' whenever they saw her.
In a public discussion on the OULC Facebook group one member argued that Hamas was justified in its policy of killing Jewish civilians and claimed that all Jews were legitimate targets. Several other members, including two former co-chairs and one then on committee, defended the member as making 'a legitimate point clumsily expressed'.
Two members of OULC argued that Jenny Tonge, a peer expelled from the Liberal Democrats over anti-Semitism, should be encouraged to join the Labour party.
Elsewhere, several other former co-chairs and executives have penned an open letter to the club to condemn their decision to back Israel Apartheid week and show their support for Chalmer's decision to quit.
The letter, signed by 32 former members – including Labour councillors and former general election candidates – said: "We don't pretend for a second that there are no problems in Israel-Palestine. We have not forgotten Israel's military occupation. We don't ignore the imperfections of Israeli society. We don't overlook the tragedy of conflict. But we are troubled by OULC's decision and feel compelled to speak out. Finally, we observe with horror what Mr Chalmers describes in his note of resignation as co-chair from OULC.
"This is not the OULC we remember and which we proudly led. OULC and the Labour Party have a long and distinguished history of fighting racism and injustice. We urge the current members to remember that tradition and to reconsider their decision."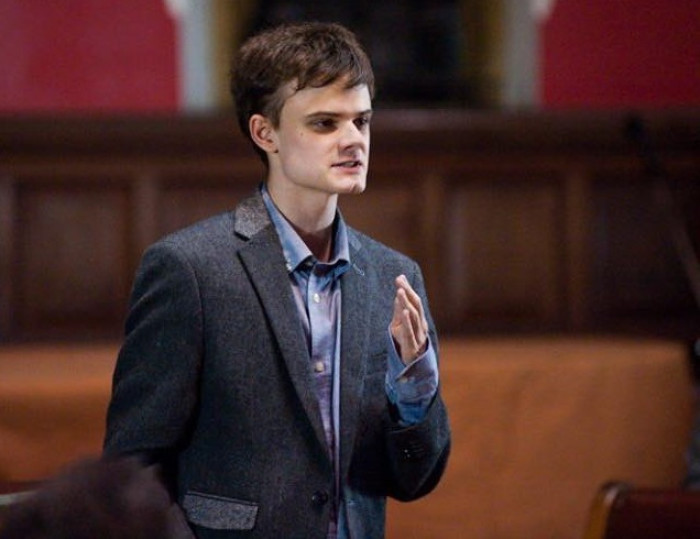 The Embassy of Israel in London said it is "appalled" by reports of anti-Semitism and intimidation of Jewish students at the OULC. A spokesperson added: "We would not expect such disgraceful activity from any morally upright person – let alone students at one of the most prestigious universities in the world. Anti-Semitism masquerading as politics is abhorrent."
The OULC said they are "horrified" at the allegations and will co-operate fully with the investigation. The club added: "The comments detailed in JSoc's statement indicate a shocking pattern of hateful and racist behaviour by some Club members, and it's of the highest priority that this be dealt with swiftly and lastingly."
A Labour Party spokesperson said: "Following recent allegations of anti-Semitic behaviour and intimidation at Oxford University Labour Club, Labour Students have launched an immediate investigation and the Labour Party welcomes and supports this action.
"If complaints are made about any individual member of the Labour Party, the party will take robust action to deal with any anti-Semitic behaviour."