Seven men who were found guilty of running an Oxfordshire child sex trafficking ring on girls as young as 11 have been jailed for a minimum of 95 years.
Five of the men were given life sentences and told to serve between 12 and 20 years for their roles in the ring. They were Akhtar Dogar, 32; Anjum Dogar, 31; Mohammed Karrar, 38; Bassam Karrar, 33 and Kamar Jamil, 27.
Assad Hussain, 32 and Zeeshan Ahmed, 27, were both given seven years and must serve at least half of this sentence, after been found guilty of two counts of sexual activity with a child.
Upon sentencing, Judge Justice Peter Rook told the men they had "blighted their victims' lives and robbed them of their adolescence".
He added to one of men that he had "robbed the soul" of one of his victims.
The gang were convicted of a total of 43 acts, including rape and facilitating child prostitution, relating to six victims between the ages of 11 and 15 over an eight-year period.
Four of the victims were present at the Old Bailey to hear the sentences.
Plied with crack and heroin - while the authorities turned a blind eye
During the five-month trial, the court heard how the men groomed the young girls with drugs and alcohol and submitted them to sexual acts of "extreme depravity".
The girls were plied with cannabis, heroin and crack, before being repeatedly abused or sold for sex to men who travelled from London, Bradford, Leeds and Slough.
Some of the girls relived their ordeals during the trial, describing how they were repeatedly raped, burnt and beaten and subjected to prolonged abuse sessions involving baseball bats, meat cleavers and knives.
At the end of the harrowing case, police, Oxford council and social services apologised to the girls for a series of failings which meant the men were not brought to justice sooner.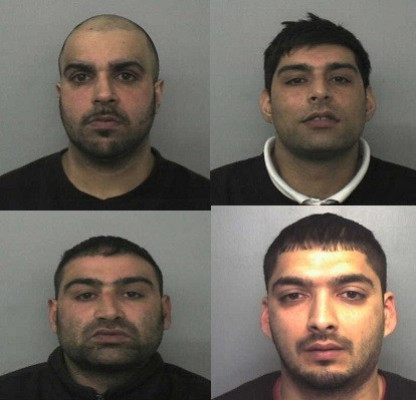 One of the victims told the court that she was ignored by police when she tried to report the men. She said she was accused of wasting police time because she had run away from her care home.
In one incident, a care home owner refused to pay the taxi fare of one 14-year-old victim after she had absconded. She was then driven back into the city, where she was raped by the men.
The carer was later sacked and the privately run home where girls were placed by Oxford County Council was closed down.
Joanna Simons, chief executive of Oxford county council, has apologised to the girls.
She said: "We'd like to publicly apologise for not stopping this abuse sooner rand to reassure everybody that we have learnt a huge number of lessons on how to tackle this type of abuse and we are now taking decisive action to stop it happening again in Oxfordshire.
Systematic failure to stop the gang
Mohammed Karrar will serve at least 20 years after being convicted of 18 offences including child rape and trafficking. His brother Bassam Karrar was handed life with a minimum of 15 years.
Brothers Akhtar Dogar and Anjum Dogar were sentenced to life with a minimum term of 17 years after being found guitly of several counts of several counts of rape, child prostitution and trafficking.
Jamil was jailed for life with a minimum term of 12 years for five counts of rape, two counts of conspiracy to rape and one count of arranging child prostitution.
Hussain and Ahmed were both given seven years and must serve half after been found guilty of two counts of sexual activity with a child.
Peter Wanless, CEO of children's charity NSPCC, said: the authorities did not take action soon enough to stop the abuse.
He said: "There was a systematic failure to stop the gang earlier and protect the girls who raised the alarm on several occasions. The trial revealed that staff knew one of the girls was being sexually groomed yet no immediate action was taken.
"We need a fundamental shift in how the system treats vulnerable young people with all carers acting as good parents would when children are at risk."
Baljit Ubhey, chief crown prosecutor for CPS Thames and Chiltern, said: "The abuse these girls were subjected to was truly appalling. Today's sentences reflect the seriousness of the offences, and the young age and vulnerability of the victims when the offences were committed.
"I would like to thank the victims for having the courage to support the prosecution and give evidence in this case. Their bravery has ensured that seven sexual predators, who sought opportunities to target, and sexually abuse and exploit vulnerable young girls, have been brought to justice."