Has Paddy Power gone too far?
Under the "Current Affairs" section of its website, the famous bookmaker is offering odds of 7/4 that the Paralympic gold medallist will be found guilty of the murder of his girlfriend Reeva Steenkamp in February of last year.
Social media has been awash with criticism of the decision to allow people to make money on the guilt of an innocence of a man accused of premeditated murder.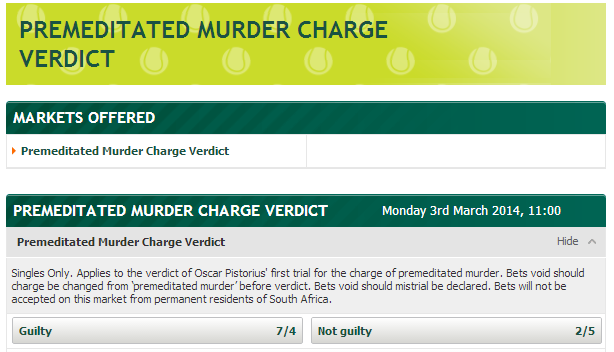 One Twitter user said: "Some of Paddy Power's publicity stunts have been clever/amusing. Just think the Oscar Pistorius one is a step too far. Others will disagree."
Another described the move as being in "very very poor taste".
It is legal for Paddy Power to place bets on a trial in another country, notwithstanding issues of taste and decency. IBTimesUK asked Paddy Power to defend its stance.
"Paddy Power has a long history of offering odds on global news events and the Oscar Pistorius trial is no different," said a spokesman. "Given intense global media interest, including a dedicated 24-hour television channel promising 'round-the-clock' coverage, Paddy Power is giving punters the chance to put their money where their mouth is for what will undoubtedly be the most reported on, and talked about, news story of the year.
"We recognise that there has been some reaction to this market, but we're also listening to the many customers looking to bet on the outcome of the trial."
Details describe how all bets will be "void should charge be changed from 'premeditated murder' before verdict" or if a mistrial is declared.
Other bets available under the same category include bets on who the next Pope will be, bets on Apple's share price, who the next Facebook CEO will be, and "When will there be a referendum to widen the ground for abortion?"
Oscar Pistorius's trial on charges of the premeditated murder of Reeva Steenkamp begins Monday 3 March and will be televised in South Africa.