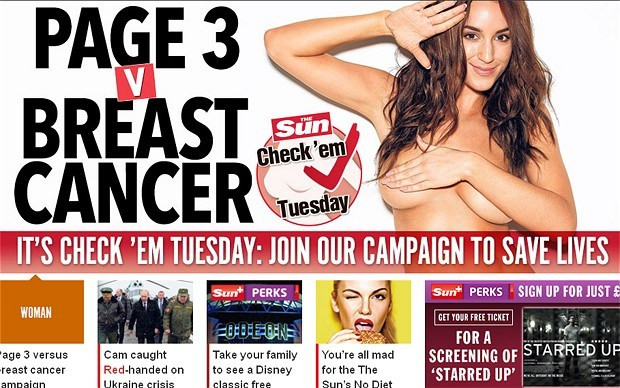 The Sun's recently launched breast cancer awareness campaign, Check 'em Tuesday, has been condemned by charities for trivialising the disease - and now claims have emerged that it may harm women.
The Check 'em Tuesday campaign is a weekly call for women to examine their breasts. It was launched earlier this month alongside an image of a woman, wearing nothing but a pair of knickers, under the headline "Page 3 vs breast cancer".
Yet Dr Margaret McCartney, a Glasgow GP, has accused the crusade of lulling women into a false sense of security.
In the British Medical Journal, McCartney argues that teaching women to examine their breasts regularly has shown "not to reduce deaths from breast cancer [but] increases the chances of a benign biopsy result".
She said the campaign was another example of a larger move to promote untested "breast awareness".
"It is unfair to tell women that regular self-examination will save their lives when it may simply incur anxiety and have the potential to harm," she says.
For the campaign, readers are asked to send in photographs to show they have examined themselves. The charity CoppaFeel!, which is involved with the Sun's campaign, offers text message reminders to prompt women to do a regular check.
Another example of untested breast awareness, according to McCartney, is promoted by the Breakthrough Breast Cancer.
The charity tells women to touch, look and feel and regularly advocates knowing what your breasts look and feel like normally. It encourages women to name the five signs of breast cancer.
Instead of such campaigns, McCartney argues that public health messages should be based on evidence.
"If we fail to critically evaluate campaigns on cancer, we create the appearance of doing something useful while potentially distracting from what might really help," she says. "In doing so we potentially harm the very women we're purporting to help."

Breast Cancer Care said that focusing the campaign on Page Three was in danger of being "ill-judged and insensitive".
But Kris Hallenga, founder of CoppaFeel!, said the campaign was a "brilliant platform to get across a lifesaving message". Hallenga was diagnosed with terminal breast cancer at the age of 23 and said her symptoms had been ignored for eight months, which resulted in the cancer spreading.
She told the Independent: "For us to be hopping on the back of that page and the Sun as a whole is a huge opportunity. This is a campaign aimed at women that have never even thought about their breasts before. This is not aimed at people who have got the disease already."