Imran Khan Leads Mass Pakistan Protest Against Drone Strikes That Kill 'Thousands'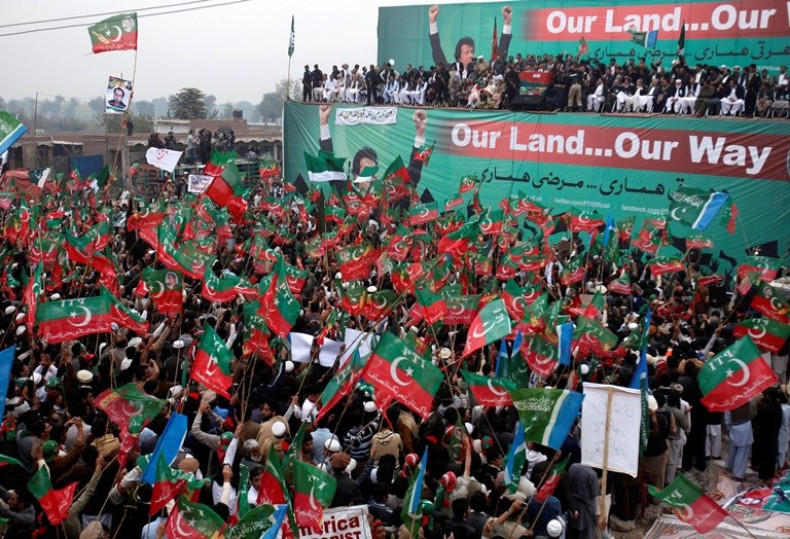 Thousands of protesters have marched in Pakistan in protest at CIA drone strikes in the country, which are thought to have killed thousands of people, including hundreds of civilians.
Led by former Pakistan cricket captain Imran Khan, leader of Tehreek-e-Insaf (the Movement for Justice Party), which rules the Khyber Pakhtunkhwa government along what used to be the North West Frontier, marchers staged a mass sit-in along the Grand Trunk Road linking Kabul in Afghanistan with Calcutta in India. The stretch of the Grand Trunk Road through Peshawar is a key Nato supply route for troops in Afghanistan.
Human rights observers claim many more civilians are killed as a result of drone strikes than the American military acknowledge. Amnesty International claimed recently that US drone strikes could be classed as war crimes. In their report, "Will I Be Next", the organisation states: "According to NGO and Pakistan government sources the USA has launched some 330 to 374 drone strikes in Pakistan between 2004 and September 2013. Amnesty International is not in a position to endorse these figures, but according to these sources, between 400 and 900 civilians have been killed in these attacks and at least 600 people seriously injured."
The Bureau of Investigative Journalism claims that more than 2,500 people have died in drone strikes in North Waziristan alone in the last eight years - up to a quarter of them women and children.
However, the current protest seems to have been sparked by recent targeted assassinations of Pakistani Taliban leader Hakimullah Mehsud and a leader of the Haqqani network. Khan told the Peshawar crowd: "We were going towards peace, the Taliban was ready to negotiate with a political government for the first time. The drone didn't just kill Hakimullah Mehsud, it killed our peace process."
Critics accuse Khan of fanning anti-American sentiment and ignoring human rights violations by the Taliban, but protesters at the demonstration from those regions most affected by drone strikes claim they simply wish the drones to stop killing women and children.
"They kill some Taliban, but they also kill innocent people," said 24-year-old student Mir Faraz. "We want peace in North Waziristan. That's why I am here."