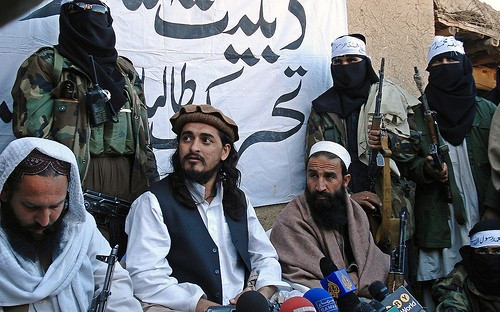 Pakistan's Air Force has launched sustained surgical strikes on Taliban hideouts in the tribal regions of North Waziristan on the Afghan border, killing at least 30 militants.
This is the fourth round of precision bombing attacks on militant strongholds in the region since the peace talks went into cold storage recently following the execution of 23 kidnapped troops by Taliban in the troubled tribal region.
"The militants had captured a stretch between South Waziristan and North Waziristan and had established training centres where they were also preparing suicide bombers," one military official told Reuters on condition of anonymity.
The PAF has targeted militant training facilities in Shawal valley and Dattakhel areas of North Waziristan, in an ongoing series of air strikes which have reportedly killed over 100 extremists.
However, it could not be confirmed if the people reported dead were members of Pakistan's largest terrorist operative, Tehrik-e-Taliban (TTP), even as no official information was available on possible civilian casualties.
Residents in the troubled region are fleeing the area for more populated cities of Bannu, Kohat and Peshawar outside the tribal belt, according to Al Jazeera.
Talat Masood, retired general and security analyst, told AFP that the Pakistani military will not take the fight to the ground, which can only be done in collaboration with US and Afghan forces. Also, he noted that the move will necessitate large-scale rehabilitation preparations for displaced people.
He said the strikes are being carried out to strengthen Pakistan's position when talks with the militant groups resume in future.
"The peace process if at all it continues now would be from a position of strength and not from a position of weakness. For some time it looked like (the Taliban) had the upper hand. These attacks change that," Masood said.
"In all probability they will engage in limited but forceful or targeted strikes for some time to weaken and push the militants," he added.
The fresh strikes came a day after Asmatullah Shaheen, a senior TTP leader, was killed in a shootout in North Waziristan.
The Pakistani government wanted to enter into a peace agreement with the TTP, but the militant organisation refused to clamp down on frequent attacks on civilians and the military.
The Taliban reportedly told the Pakistani government that they will continue to launch attacks against the country unless Islamabad overhauls its political and legal system in accordance with Islamic law.