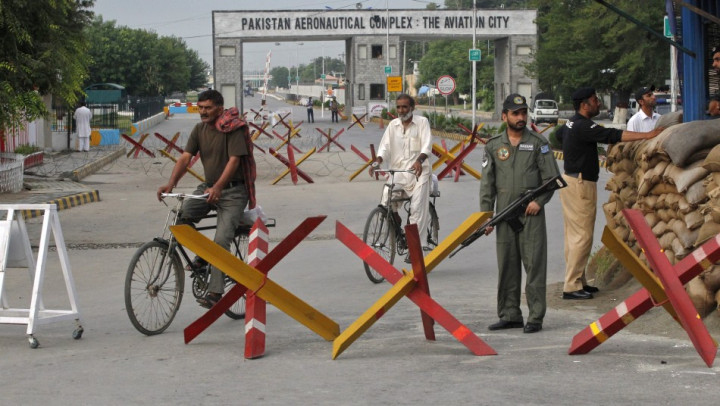 Militants armed with automatic weapons and rocket-propelled grenades have stormed one of Pakistan's biggest air bases, triggering a fierce gun battle which killed eight militants and one soldier.
The Minhas air base at Kamra, in central Punjab, was attacked in the early hours of the morning by the militants, who climbed through a nine-foot (2.7 metre) wall of the air base to gain entry to the hangar.
Reports suggest the assailants were wearing military uniforms, and suicide belts.
"One body of a suicide bomber strapped with explosives has been found close to the impact area," said an air force statement.
One aircraft was damaged in the grenade attack. The airbase houses nearly 30 fighter jets including a fleet of new JF-17 planes, developed in collaboration with China and assembled on site.
The Minhas hangar is adjacent to the Pakistan Aeronautical Complex, a major air force research and development centre which is about 60km (35 miles) north-west of Pakistan's capital Islamabad.
However an air force spokesman has ruled out any threat to Pakistan's nuclear weapons, as the country's airbases do not house such technology.
"No air base is a nuclear base in Pakistan," the spokesman said.
No militant group has yet claimed responsibility for the attack, and the area is being scanned by security officials in the hope of unearthing further details.
"We are checking every inch of the complex to make sure there are no other miscreants," Captain Tariq Mahmood told Reuters.
History of attacks
Pakistan's military installations have faced repeated attacks over recent years.
Recently, an army camp near the city of Gujrat, also situated in the Punjab province, was stormed by gunmen in an attack which killed seven security personnel. This followed an assault on Karachi's Mehran naval air base in May 2011, which killed 10 soldiers.
In 2009, six people lost their lives when a suicide bomber blew up at a checkpoint in Kamra - just a few miles from the site of the latest attack.