It is sad to note that Pakistan, after a moratorium on the death penalty lasting six years, has resumed its resort to the hangman's noose.
Of the 195 states that make up the United Nations, 103 have abolished the death penalty for all crimes. Six retain it for exceptional circumstances, generally crimes in wartime and 50 retain it in theory but have not executed anyone in ten years or more, meaning they are de facto abolitionist.
This means that 159 countries (81.5%) of the countries of the world do not execute human beings and just 36 countries do – it is a shame to see Pakistan re-join this latter rump of nations.
Since the moratorium was lifted there has been a spate of executions, almost 150 in as many days. Yet even at this rate, death row is hardly shrinking as Pakistan has more people – 8,261 at the most recent count – under the Damoclean sword of death than any other country in the world.
Even by hanging one person per day, the country barely keeps up with the rate at which they are sentenced.
Each one of these statistics reflects an individual, living, breathing person and next Wednesday, June 10, it is Aftab Bahadur Masih that has a date with the gallows.
Aftab, now 39, is accused of a murder that took place on September 5, 1992, meaning that he has been facing the death penalty for almost 23 years, and that he was apparently just 15 at the time of the crime. It is illegal to execute a juvenile, no matter what he may have done, and it would be shocking were this hanging to proceed.
There is also a strong case that Aftab is innocent. His co-accused, Ghulam Mustafa, has confessed to his own involvement in the murder but insists that he was tortured into implicating Aftab, who had nothing to do with the crime.
Aftab also claims that he was tortured and independent witnesses support that claim, but no hearing has been held to explore the allegations despite that being required by the UN Convention Against Torture, to which Pakistan is a signatory.
Aftab has spent well over half his life in death row, more than twice as long as the person generally spends serving a life sentence in Pakistan. The Shariat Court in Islamabad has held that to execute someone under these circumstances constitutes Double Jeopardy as he has already suffered at least one sentence.
This is an enlightened decision, and we can only hope that it is applied to Aftab between now and next Wednesday.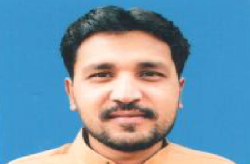 Lastly Aftab is a Christian in a country that has seen its fair share of tensions between the Muslim and minority Christian communities.
In considering his case we should remember that one thread that brings together Islam, Christianity and even secular humanism, mercy, which William Shakespeare famously said was "twice blessed: it blesseth him that gives, and him that takes."
Aftab could do with some mercy in the next few days, and we can only hope that those in authority in Pakistan will show it.