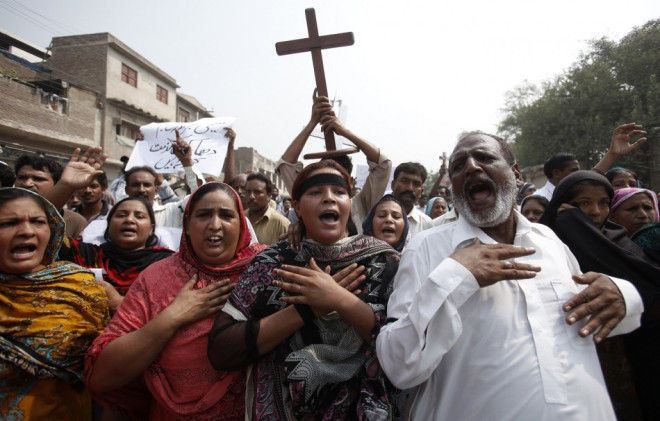 A court in Eastern Pakistan has sentenced a Pakistani Christian couple to death for blasphemy after they allegedly sent a text message insulting the Prophet Muhammad.
Shafqat Emmanuel and Shagufta Kausar are said to have sent an offensive text message to the imam of their local mosque. The imam, Maulvi Mohammad Hussain, made a complaint against them in July 2013.
The impoverished couple, who are in their forties, have three children and live in the town of Gojra, which has a history of violence against Christians.
The defence lawyer Nadeem Hassan told the BBC that the text originated from a cellphone which the couple had lost some time before the incident, so they could not have sent the message.
He said that the couple had suspected rivals of implicating them in the blasphemy case to settle personal scores and that they had ties with the complainant.
He added that they would appeal against the death sentences amidst claims the trial had not been conducted fairly.
Pakistan's blasphemy laws have come under scrutiny, with allegations of their misuse to settle personal vendettas and that members of minority groups are also unfairly targeted.
Several recent cases have prompted international concern regarding the application of blasphemy laws.
Since the 1990s, Christians have been convicted for blasphemous acts such as desecrating the Koran or insulting the Prophet Mohammed.
In 2009 the desecration of a copy of the Koran prompted a mob to burn nearly 40 houses and a church in Gojra, the same community that Emmanuel and Kausar are from.
At least eight members of Christian community died in the violence.
While most of the people charged with blasphemy have been sentenced to death by the lower courts, many sentences have been overturned due to lack of evidence.
In 2012 the arrest of a young Christian girl, Rimsha Masih, on blasphemy charges provoked international outrage.
After being detained in a high security prison for several weeks she was eventually released.
In the 1980s, clauses were added to the laws by the military government of General Zia-ul Haq. One clause recommends life imprisonment for "wilful" desecration of the Koran, while another states that blasphemy is punishable by death or life imprisonment
There is however little clarity on what the religious scriptures says about blasphemy.