Pakistani diplomat faces backlash after she displays Gaza girl as Kashmir victim in UN gaffe
Pakistan's permanent representative to the UN displayed wrong photograph to claim "Indian atrocities in Kashmir".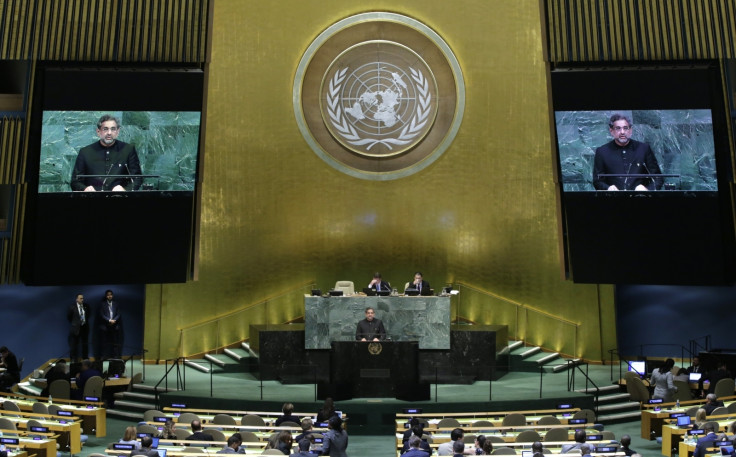 Pakistan's permanent representative to the UN displayed a Gaza girl as a victim affected by Kashmir conflict when she was charging India with high-profile terrorism allegations. And now, Maleeha Lodhi is facing stinging criticism following the gaffe at the international platform.
India and Pakistan have been locking horns at the UN General Assembly with both sides trading charges of over terrorism. Diplomats and ministers of the respective countries pulled no punches while delivering their stinging statements against each other.
In the latest development, Pakistan's Lodhi used a picture of a girl with a face bearing multiple bruises. Brandishing at the UN gathering, she claimed the picture shows "Indian atrocities in Kashmir."
"This, Mr President, is the face of India's democracy," said Lodhi while holding up the photo.
Except, it doesn't. It was an award-winning photograph taken by Herdi Levine during the Gaza conflict in 2014. The image was widely carried at that time.
"Pakistan has made a fool of itself and to all the rubbish they have said against Prime Minister Modi and India, I hope our representatives at the UN give a good answer to them in due course," former Indian diplomat Nagendra Nath Jha told the ANI news agency.
The gaffe has also led to plenty of reaction on social media with Twitter users asking why the Pakistani top diplomat could not do her homework.
© Copyright IBTimes 2023. All rights reserved.