In a surprise statement released ahead of Holocaust Remembrance Day the Palestinian Authority President, Mahmoud Abbas, has called the Holocaust the most heinous crime in modern human history.
However Abbas's statement was treated with some cynicism by Israel's Prime Minister Benjamin Netanyahu. Meanwhile Hamas, with whom Abbas's Fatah Party are now in alliance, said they still don't recognise the existence of Israel and are planning to sue the Washington Post for claiming they might.
In his statement on the Holocaust Abbas said:
"The Palestinian people, who suffer from injustice, oppression and denied freedom and peace, are the first to demand to lift the injustice and racism that befell other peoples subjected to such crimes."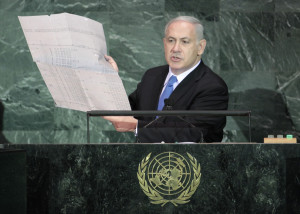 These comments could be seen as progress bearing in mind Abbas's former views. In a 1983 dissertation and 1984 book, "The Other Side: The Secret Relationship between Nazism and Zionism", Abbas wrote that only 890,000 Jews were killed by Nazis and described the Holocaust as "the Zionist fantasy, the fantastic lie that six million Jews were killed."
By 2011 Abbas had apparently "accepted" the figure of six million in a New York Times interview but in a 2013 interview on Lebanon- based Al-Meyadeen TV, the Jerusalem Post reports, he repeated his claims that Zionists and Nazis were complicit – at least prior to World War II.
The response from Israel's Prime Minister Benjamin Netanyahu was scathing. Referring to the fact that Abbas's Fatah Party recently reached a power-sharing deal with the more militant Hamas, Netanyahu said:
"Instead of issuing statements designed to placate global public opinion, (Abbas) needs to choose between the alliance with Hamas, a terrorist organization that calls for the destruction of Israel and denies the Holocaust, and a true peace with Israel. We hope that he will disavow this alliance with Hamas and return to the path of true peace."
In a sign that Fatah and Hamas may not be singing from the same song sheet, Hamas have announced plans to "sue" the Washington Post. Taher Nunu, who had been quoted by the US paper as saying the militant group may one day recognise Israel, told the Palestinian Qudsnet news agency:
"What I was quoted as telling the American paper is wrong, and I unequivocally deny it. The issue of Hamas recognizing Israel is a complete nonstarter... aimed primarily at weakening the movement's positions on Israel."