Palestinians will adopt the non-violent methods of Nelson Mandela and the African National Congress (ANC) in an effort to force Israel to end its occupation of the West Bank and begin serious peace negotiations, a former Palestinian Liberation Organisation official and veteran diplomat has said.
Nabil Shaath, former foreign minister of the Palestinian Territories, peace negotiator and former confidant of Yasser Arafat, also echoed the comments of Palestinian president Mahmoud Abbas to the UN General Assembly in saying that Palestine considers itself to be no longer bound by the Oslo Accords.
Shaath, who has been tipped as a possible successor to Mahmoud Abbas, 80, said that decades of peace negotiations with Israel had only entrenched its hold on Palestinian land. He accused Israel of creating a system of "interim-ness" wherein it continued to move Israeli settlers into the West Bank in the absence of a peace deal.
"The peace process has been a catastrophe for the Palestinians. There were 80,000 illegal settlers in Palestine when we went to Madrid [in 1991]. There were 160,000 when we signed Oslo and now after 21 years there are 665,000 settlers in the West Bank alone," he said. "The peace process has brought us nothing but disaster."
Abbas told the UN on 30 September that the Palestinian Authority (PA) would no longer be bound by Oslo, which dictates that it should cooperate with Israel over security in Palestinian-controlled areas of the West Bank. In the past, this has meant the PA preventing unrest and arresting and even jailing militants at Israel's request.
Critics noted that Abbas had stopped short of threatening to end security cooperation completely – only alluding to it – but Shaath told a panel of experts and journalists that he believed the president's message was clear. If Israel continues to violate Oslo by allowing settlers in the West Bank and carrying out military operations in Palestinian-controlled areas such as Ramallah and Nablus, the PA will cease to cooperate with the Israelis.
"If the occupation remains costless then what is the use of going back to negotiations? [...]If the Israelis will continue to occupy [...] the West Bank then we will stop following up on their tip-offs and stop helping them," he said.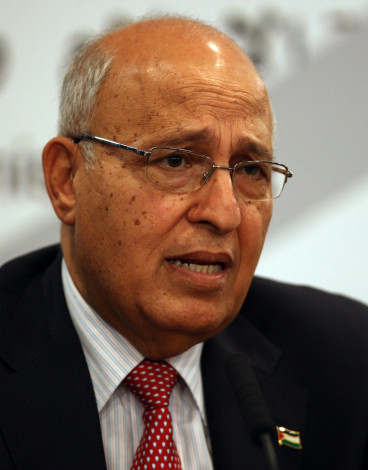 He also said that the Palestinians would not negotiate with Israel while it continued to support the settlements, all of which are illegal under international law and a direct violation of the Oslo Accords.
"We [have been] negotiating land for peace while Israel takes our land, piece by piece. If this goes on for another 10 years there will not be any Palestinian land left," Shaath said.
As an alternative, Shaath said that Palestine would increase its diplomatic efforts to put pressure on Israel, particularly at the UN, which raised a Palestinian flag for the first time on 30 September.
In 2014, Sweden recognised Palestine as an independent state and France has considered putting a motion before the UN. Shaath quoted a recent poll in Germany that found that almost 60% of Germans wanted their country to recognise Palestine.
But while the PA's diplomatic efforts have been making headway in recent months, at home it – and Abbas in particular – are increasingly unpopular. A poll carried out in late September by the Palestinian Centre for Policy and Survey Research (PSR) and quoted by the Guardian revealed that two thirds of Palestinians would like to see Abbas stand down and almost 60% would like to see a return to violent resistance.
Shaath, whose family hail from Gaza, acknowledged that the PA's credibility was an issue and had been as far back as 2006, when Hamas won elections in both the West Bank and Gaza and Hamas and Fatah, which dominates the PA, fought a brief but bloody civil war. As a result, Hamas was left in power in Gaza and Fatah in the West Bank. An effort to align the two in 2014 was derailed by the Gaza war, when 2,100 Palestinians were killed.
He said that now more than ever it was important to both rebuild bridges with Hamas and convince Palestinians that violence was the worst option available to them.
"We lost our elections to Hamas because we could not deliver the Palestinians what we promised [...]. Hamas based its campaign on the fact that only jihad can liberate Palestine but [...] their jihad gave Israel the pretext to destroy Gaza. We have to educate our people on the value of non-violence [...].I keep invoking Martin Luther King and Nelson Mandela genuinely to tell them non-violence is not only humanly superior but it works," he said.
At the same time, Shaath said that the PLO will attempt to bring Hamas back into the political process in the West Bank. He said that the PLO would call a meeting of the defunct Palestinian National Council that included its 73 Hamas members, and then elect a new executive committee based on national unity.
Shaath said that Hamas was increasingly isolated having lost support from Iran and failed to woo Saudi Arabia. It had also lost a supporter in Egypt with the downfall of the Muslim Brotherhood and was no longer close to embattled Syrian president Bashar al-Assad. Palestinian unity was therefore Hamas's only option, but it was also integral to the PA.
"Having lost unity with Gaza we lost real democracy. We sound like a dictatorship, which is horrible. We cannot mobilise people without democracy," he said.
Looking to the future, Shaath said that the PA expects Israel to respond to any refusal to cooperate over security with heavy reprisals, including the cutting off of both electricity and water to the West Bank, access to both of which are controlled entirely by the Israelis, and a refusal to pay the tax revenue it collects on its behalf.
"Without water, electricity and money we would be in trouble. We have to be ready for [Israel's] counter-measures," he said.
Violence flared in the West Bank on Friday after a husband and wife from an Israeli settlement were shot dead on a road in the region by a Palestinian gunman. In response, settlers attacked and burned Palestinian cars and threw stones at Arab residents of a nearby village.
Meanwhile in Jerusalem, tensions remained high at al-Aqsa Mosque after weeks of fighting between Palestinian worshippers and the Israeli army.