Millions of people from across the globe celebrated Palm Sunday, which commemorates the entry of Jesus Christ into Jerusalem, riding a donkey as crowds greeted him and spread out palm branches in his path. Marked on the last Sunday before Easter, popular traditions include processions with palm branches, the blessing of palms and the construction of small palm crosses. While the story of Palm Sunday is told in all four gospels in the Bible, Matthew 21 is the one that is read at most church services.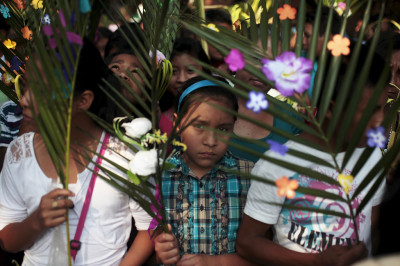 Different processions were observed all over the world: in Paraguay, people carried a statue of Jesus Christ on a donkey; while Syrian Roman Catholic scouts took part in a parade after mass. In Oviedo, northern Spain, the governing body of the "Estudiantes" brotherhood decided that penance could not be done in the streets due to the rain.
Pope Francis lead the world's 1.2 billion Roman Catholics in a Palm Sunday service held at the Vatican. After mentioning the part of the gospel recounting how Jesus was denied justice and abandoned to his fate, he criticised those who he said were washing their hands of the fate of desperate refugees, adding in unscripted words: "I am thinking of so many other people, so many marginalised people, so many asylum seekers, so many refugees. There are so many who don't want to take responsibility for their destiny."
Palm Sunday is considered one of the most important dates on the Christian calendar as it represents the beginning of Holy Week, which focuses on Jesus' last days before he was crucified and is celebrated by almost all Christian denominations.