Palmyra Arch in London: 'Unethical' reconstruction of 'Disneyland' archaeology criticised
A replica of an ancient triumphal arch destroyed by Islamic State (Isis) in Syria has been put up in central London but the initiative has sparked a fierce debate on its political and archaeological implications. The scale model of Palmyra's Arch of Triumph erected in Trafalgar Square was unveiled by London Mayor Boris Johnson on Tuesday 19 April as part of World Heritage Week.
Made from Egyptian marble, it was built by the Institute of Digital Archaeology (IDA) applying 3D technology to hundreds of photographs of the original and cost about £100,000.
Johnson described the reconstruction of the 3rd century monument that was blown up by IS (Daesh) in October 2015 as a stand against violence."Antiquities like this belong to all mankind and it is imperative that we all strive to safeguard our common heritage," he said.
The doorway was one of numerous archaeological gems considered blasphemous and destroyed by the jihadi group during its 10-month rule over the ancient city.
"When I saw the destruction, I felt like I needed to do something to try and make it right," said IDA executive director Roger Michel. "The first thing I thought was, when I saw Palmyra come down, is these folks are censoring history".
After Palmyra was recaptured by government forces in March, Maamoun Abdulkarim, the director of the Syrian antiquities department, said the government planned to employ the same 3D technique used by IDA to return the city its earlier splendour.
"The IDA's Arch of Triumph of Palmyra serves as a model for how, together, we will bring life back to Palmyra and restore the site as a message of peace against terrorism," Abdulkarim said. The process would take only five years, he said.
Leading experts on near-east archaeology have however criticised the approach, wary of the creation of a 'Disneyland' of archaeology with brand new monuments on ancient grounds. Polish archaeologist Michal Gawlikowski who, as head of the University of Warsaw's Polish Mission at Palmyra, worked at the site from 1965-2011, said he supported the IDA's replica as long as it remained a temporary installation.
"Generally speaking I am rather against making copies out of contest because of the so-called Disneyland effect, but I suppose in this case it might be justified," he told IBTimes UK. "It draws attention to the problem that we have there, making the public aware of it and, in this aspect, it can be useful."
The veteran archaeologist however warned against applying the same 3D method to rebuild all of Palmyra, noting that historic accuracy demands only original stones are used to salvage a monument. "If as a result the ruin is more ruined than it was before it will simply remind us of the history of the place. Because, sometimes from now, this episode of Isis will also be part of history," he said.
Martin Makinson from the Association for the Protection of Syria Archaeology (Apsa) went further, alleging that a quick and complete reconstruction of Palmyra would also be "unethical", serving as indirect rehabilitation for a regime widely accused of massacring its own people.
"What we are witnessing is a propaganda stint organized by both the Assad regime and the Russians, using Maamoun Abdulkarim as their spokesperson to add archaeological legitimacy to what is going on [in Syria]," he said.
Makinson argued that Syrian president Bashar al-Assad is trying to portray himself as the protector of Syrian heritage but his forces have also been accused of overseeing looting and damaging heritage sites with indiscriminate bombings.
"The restoration of Palmyra as programmed by the Syrian government, Russian and Syrian executives, and people such as Boris Johnson is both unscientific and unethical and amounts to nothing more than transforming Palmyra into a pro-Bashar theme park," he said. A peaceful environment allowing the involvement of international experts would be required to properly restore the city, he added.
The replica Arch is to remain exhibited in London for three days before heading to a number of other cities including New York and Dubai. Under current plans it is then to be transferred to Palmyra to be exposed next to its ruined original.
Mark Altaweel, a near-east specialist from the UCL Institute of Archaeology, said the last word on what to do with their heritage belonged to the Syrian people. "I think archaeologists should stay out of this," he told IBTimes UK. "It would seem ridiculous to rebuild the site in the middle of a civil war but – that said – ultimately it is a Syrian decision to take".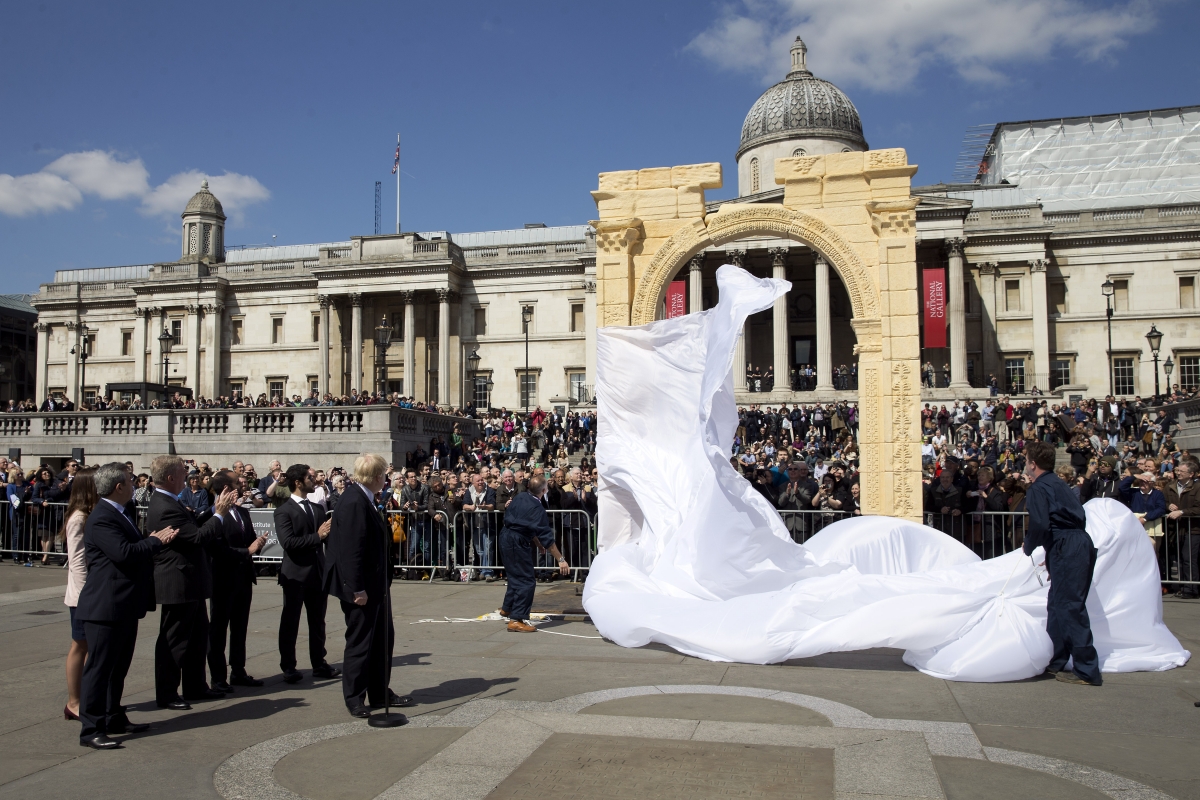 © Copyright IBTimes 2023. All rights reserved.