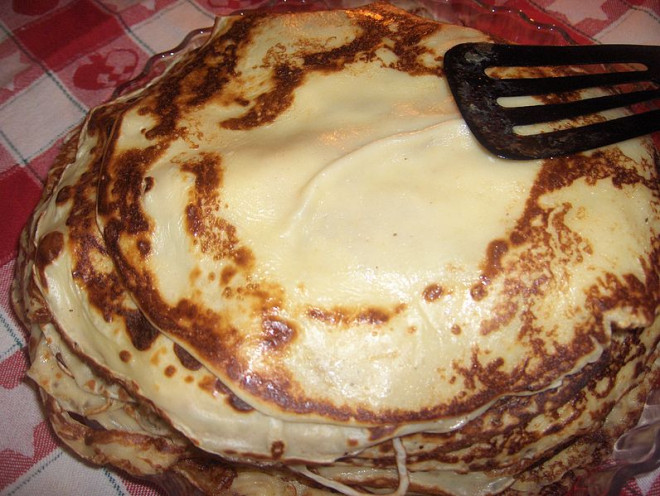 Pancake Day, otherwise known as Shrove Tuesday or Pancake Tuesday, marks the day preceding Ash Wednesday, the first day of Lent.
Mardi Gras, meaning Fat Tuesday in French, refers to the practice of eating richer, fattier foods before the ritual fasting of Lent. Eating pancakes, which is customary in the UK, evolved from using up eggs and butter in the batter - as they were ingredients forbidden during the fast.
Whether its lemon and sugar, chocolate spread or a gourmet approach to pancake fillings - the UK is pancake mad. Similar to French crepes, rather than the smaller, thicker American-style pancakes, they can also be enjoyed as a savoury dish with vegetables and cheese. Although traditionally a breakfast item, pancakes can be turned into a meal at any time of the day.
From breakfast to dinner, there are plenty of restaurants and cafes offering free pancakes for those on a budget - or those who can beat the batter.
The Breakfast Club, London
All Breakfast Club cafes are offering a stack of 12 pancakes for free - if you can eat them all in less than 15 minutes. If you succeed, you eat for free. If you fail, you have to pay the full price and the proceeds will be donated to charity. There are other Pancake Day specials, including banana, butterscotch and chocolate chip with ice cream, berries and hot fudge.
Black Dog Ballroom, Manchester
Based in the city's Northern Quarter, the cafe is running a competition to see who can eat the most pancakes in half an hour. The winner will receive a meal for two plus drinks, which thankfully doesn't have to be eaten afterwards. If you don't fancy the competition, there will be free pancakes on offer all day.
John Lewis, London
The Tefal Ingenio Restaurant, hosted by the cookware company, is hosting the first ever pop-up restaurant in the John Lewis Oxford Street branch. They are offering free gourmet pancakes all day, between 10.30am and 8pm.
Curlers Rest, Glasgow
This pub is offering free pancakes with lemon and sugar between 12pm and 10pm to everyone who has a meal. The restaurant offers traditional pub food with craft ales.