A panda cub has been born at Tokyo's Ueno Zoo for the first time in 24 years.
It had been suspected that Shin Shin may have got pregnant after zoo staff saw her mating with Ri Ri, the other panda at the zoo, earlier this year. Suspicions increased after her appetite dimished and she underwent hormonal changes and increased sensitivity to noise and light - classic symptoms of pregnancy.
Even so, zoo president Toshimitsu Doi said that the panda's birth caught staff off guard.
"We're very surprised, as it seems like it was born all of a sudden," said Doi. "While one may normally be worried about it being born that way, as one can see from the video she's caring and used to being a parent from the start. So we're quite happy."
Both Shin Shin and Ri Ri were imported from China in February 2011, going on display not long after the devastating earthquake and tsunami that hit Japan. They are on a 10-year loan for $1m a year.
Zoo officials have said that both the mother and infant appear to be in good health. The sex of the baby has not been announced.
Panda births are extremely rare because of the great difficulties the animals have in conceiving. The new addition at Ueno Zoo is even more remarkable because it was born naturally. Zoos often have to artificially inseminate female panda's in order for them to reproduce.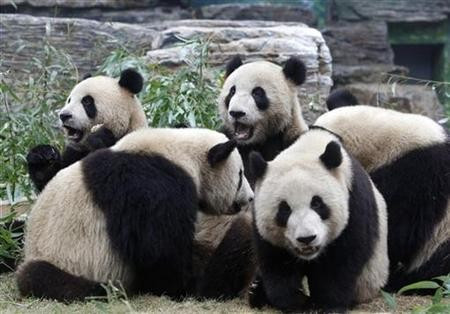 'Panda Dimplomacy'
The World Wildlife Fund says that the giant panda is an endangered species with a growing human population and habitat loss threatening the existence of China's national symbol.
Radical steps are being taken to counter the threat with a zoo in Mexico launching an audacious breeding programme. Chapultepec Zoo in Mexico City announced plans to artificially inseminate its panda, Xin Xin with frozen semen imported from China.
The "panda diplomacy", if successful, will see Mexico sending its newborn pandas to China in exchange for the $1m fee for the breeding programme being waived.
Jose Bernal, director of the zoo, labelled the deal historic.
"The idea is that in the next reproductive cycle, two specialists from the People's Republic of China could try to artificially inseminate the giant panda Xin Xin," he said.
Chapultepec Zoo has developed a reputation for successfully breeding pandas, with Xin Xin the first of the species to be born outside China, in 1990. Eight giant pandas have been born at the zoo, with five reaching adulthood.