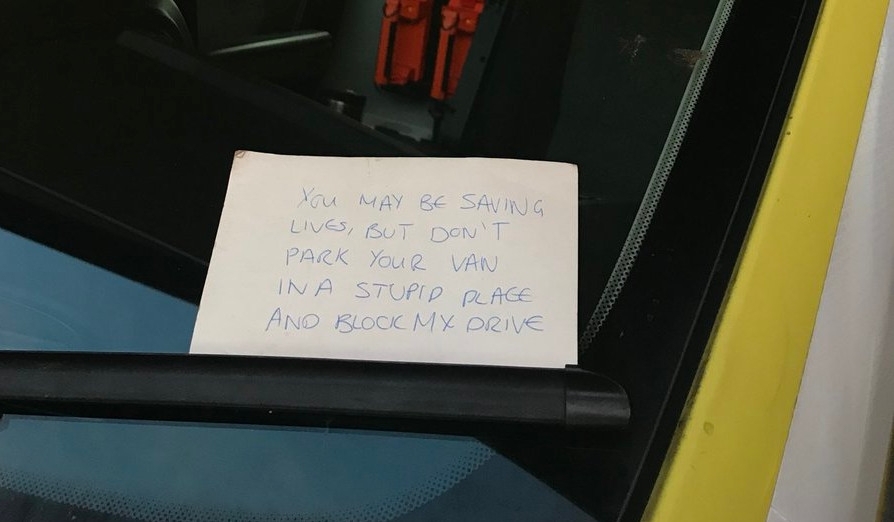 West Midlands Ambulance Service (WMAS)has expressed its dismay after someone left an anonymous angry note on one of its ambulances complaining about the emergency vehicle's parking during a call out.
Paramedics were tending to a man with heavy internal bleeding in Small Heath, Birmingham and rushed him to hospital, after which they discovered a note on the windscreen: "You may be saving lives but don't park your van in a stupid place and block my drive."
A picture of the note was shared by paramedic Tasha Starkey, who said: "Minimal on scene time, arrived at hospital to find this note... This patient was TIME-CRITICAL."
Sam Grimson, a clinical team mentor within WMAS added in a later tweet: "The crew were not on scene long due to how poorly the patient was.
"We always try to park appropriately but sometimes it [is] not possible."
The service itself later shared the picture, saying: "Thanks for all the comments you've been sending through about this case. We still can't believe it, and it appears you can't either. Leaves us feeling really rather sad - thanks again for all your support."
A spokesman for WMAS later said: "Sometimes we just don't know what to say. This was the note left on an ambulance today. At the time, the crew were helping a man who was extremely unwell after vomiting blood.
"They took him on blue lights to hospital where he was in a critical condition. Patients come first."
The spokesman then reported a separate incident that took place while a crew was treating someone for cardiac arrest. "[It's] the most serious case we can attend - and someone banged on the side of the ambulance asking them to move as they couldn't get their car out! Sorry, patients come first."
On social media, people shared their messages of support. "I was late for work once for an hour because was blocked by ambulance," he said. "Nothing happens not even wage deducted when I explain why. Emergency services quite often risk [their] life to save someone's life. Simple as. Thanks for your job."
Another said: "Ambulance crews work stupid hours day and night with hardly a break, no time to eat or drink because they are busy keeping people alive and safe.
"People who say they park in bad ways need to shut up and think what if one day that ambulance crew are parked somewhere and attending to you... next time you leave a stupid comment or note anywhere about ambulances just think – they could help you one day."