Paris attacks: 3 dead after blasts at Stade de France during France v Germany friendly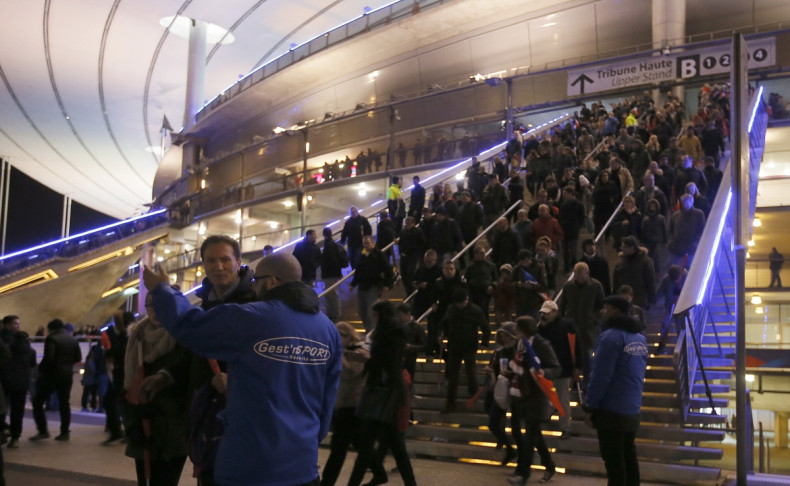 Three people have died during the international friendly between France and Germany on 13 November following explosions at the Stade de France. Paris saw unprecedented terror attacks on its soil and one of them was at the stadium where the two countries were playing football.
There were three explosions near the stadium, according to Sky Sports. President Francois Hollande was at the Stade de France and has declared a state of emergency in France after the attacks in the French capital.
The match continued and the hosts won 2-0. Arsenal striker Olivier Giroud opened the scoring before 29-year-old Andre-Pierre Gignac doubled the lead in the final quarter of the match.
French Football Federation (FFF) president Noel Le Graet has condemned the attacks that have left the country shaken. Le Graet said in a statement released by the FFF's official website, "FFF is the grief of the bereaved families and relatives."
"The French Football Federation shares the emotion that shakes the nation following the tragic events of that Friday in Paris and around the Stade de France which took place between France and Germany."
Le Graet also revealed that there was an explosion at one of the entrance gates. Speaking to Canal+, he said: "There was a bomb explosion at the entrance to Gate J. There have been three deaths and some injured. The Stade de France is secure. There is no longer any danger, people will leave normally."
The Football Association (FA) has offered condolences following the Paris attacks. England were playing a friendly fixture against Spain and Roy Hodgson saw his men suffer a 2-0 defeat during their away tie.
"It is a very serious and tragic matter," an FA spokesman said, as quoted by Sky Sports.
"If there is any update on the match on Tuesday we will announce in due course. We will liaise with the French Football Federation over the weekend. The FA sends its deep condolences to the victims of this tragic event but to say anything else would be inappropriate."