President Hollande has declared a state of emergency in France following a series of coordinated attacks on the French capital. The president said it was an "unprecedented terrorist attack" in which "several dozen people" have been killed. He said that the borders have been closed and French military have been deployed around Paris. Several Paris Metro lines have been closed.
Addressing the French people he said: "As I speak, terrorist attacks of unprecedented proportions are underway in the Paris area. There are dozens killed, there are many injured. It is a horror.
"We have, on my decision, mobilised all forces possible to neutralise the terrorists and make all concerned areas safe. I have also asked for military reinforcements. They are currently in the Paris area, to ensure that no new attack can take place. I have also called a cabinet meeting that will be held in a few minutes.
"Two decisions will be taken: a state of emergency will be declared, which means that some places will be closed, traffic may be banned , and there will also be searches which may be decided throughout Ile de France (greater Paris). The state of emergency will be proclaimed throughout the territory (of France).
"The second decision I have made is to close the borders. We must ensure that no one enters to commit any crimes and that those who have committed the crimes that we have unfortunately seen can also be arrested if they should leave the territory.
"This is a terrible ordeal which once again assails us. We know where it comes from, who these criminals are, who these terrorists are. In these difficult moments, we must - and I'm thinking of the many victims, their families and the injured - show compassion and solidarity. But we must also show unity and calm. Faced with terror, France must be strong, it must be great and the state authorities must be firm. We will be.
"What the terrorists want is for us to be scared," he said. "We will vanquish these terrorists," he said in defiance.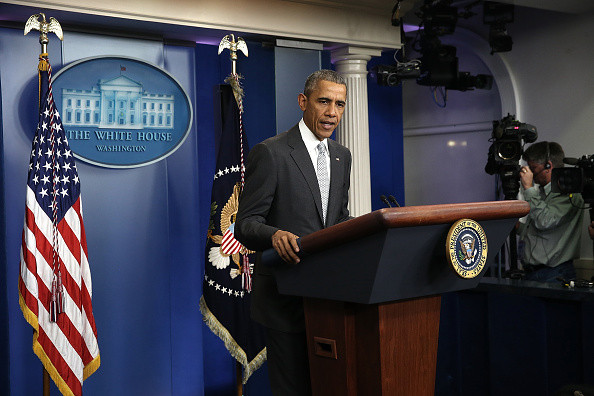 His statement comes as US President Barack Obama condemned the attack on Paris, describing it as "an attack on all of humanity". Speaking from The White House the president offered his condolences to those who had been bereaved or injured in the attacks. He said it was "a heartbreaking situation."
Describing the values of liberty shared by France and the US, he pledged his solidarity for the French people. ""Those who think they can terrorise the people of France and the values they stand for are wrong. Every time these kind of attacks happen we have always been able to count on the French people and we will support them in the same fashion. The US stands with France in the fight against terrorism and extremism."
"I'm sure in the days ahead we will find out more. I don't want to speculate on who may be responsible. There appears to still be live activity and until we know from French officials that the situation is under control. I don't want to speculate on it."
His statement follows messages of shock on social media from David Cameron and Labour leader Jeremy Corbyn.
Reacting to the news on Twitter Cameron said: "I am shocked by events in Paris tonight. Our thoughts and prayers are with the French people. We will do whatever we can to help."
Labour leader Jeremy Corbyn condemned the attacks saying: "My thoughts are with the people of Paris tonight. We stand in solidarity with the French. Such acts are heinous and immoral."
President of the EU Commission Jean Claude Juncker said he is "deeply shocked by the events in Paris. We stand in full solidarity with the people of France."
The UN Secretary General Ban Ki-Moon has issued a statement condemning "the despicable terrorist attacks". He demanded the "immediate release" of the people being held hostage at the Bataclan theatre.
The Foreign Office has said they are concerned about the attacks on Paris and are investigating whether any British Nationals may be affected.
A Foreign Office spokeswoman said: "We are very concerned about the attacks in Paris. We are in close touch with the French authorities and are urgently investigating whether there are any British nationals caught up in this."
French media reports that at least 120 people have been killed in what appears to be a coordinated attack. Eye-witnesses report scenes of carnage with streets strewn with the bodies of the dead. Up to 100 people are believed to be held hostage in a concert hall with witnesses who escaped the scene reporting people being shot dead in front of them. French police confirmed that two of the attacks were suicide bombings.
People concerned about British friends or relatives can contact 0207 0081 500 for assistance, the Foreign Office has said.
I am shocked by events in Paris tonight. Our thoughts and prayers are with the French people. We will do whatever we can to help.

— David Cameron (@David_Cameron) November 13, 2015
My thoughts are with the people of Paris tonight. We stand in solidarity with the French. Such acts are heinous and immoral.

— Jeremy Corbyn MP (@jeremycorbyn) November 13, 2015
I am deeply shocked by the events in Paris. We stand in full solidarity with the people of France.

— Jean-Claude Juncker (@JunckerEU) November 13, 2015