Paris attacks: Fake Gamergate image of 'Sikh suicide bomber' Veerender Jubbal is no joke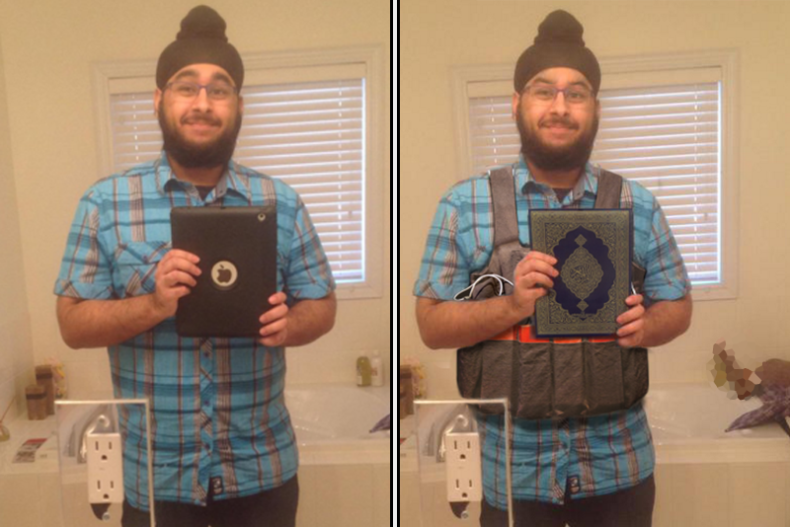 There is good reason Veerender Jubbal, a Canadian Sikh, fears for his safety following publication of a doctored selfie of him in a 'suicide vest' holding a copy of the Quran. The image was presented as taken by one of the suicide bombers shortly before the Paris terror attacks – deliberately conflating Sikh identity with that of an Islamic extremist.
I, like many, feared for Jubbal's well-being. Sikhs in America have faced the brunt of backlash, especially in the aftermath of major Islamic terror attacks. Jubbal fell foul of the most vindictive of pranks, making him a legitimate target for hate and violent reprisals.
An investigation by Vice News has alleged supporters of a group operating under the banner of 'Gamergate' were behind the malicious prank. Jubbal, a fierce critic of the movement, was forced to delete his Twitter account due to trolling in the past.
However, where there is darkness, there is light. The good samaritans of the Twittersphere stepped into the ensuing quagmire, in defence of the young journalist.
One tweeted "Sikh men, like @Veeren_Jubbal, are victimised because racists do not and will not and cannot individualize different non-white cultures." Another wrote, "whomever photoshopped @Veeran_Jubbal has sincerely put his life in danger."
I couldn't agree more with both these sentiments. The web has become yet another battlefront against bigotry, but as Jubbal's case proves, it's far more unpredictable. His life has been put at risk, taking the concept of online harassment to a whole new level.
Once aware of his predicament he took a pragmatic approach by tweeting: "Let us start with the basics. Never been to Paris. Am a Sikh dude with a turban. Lives in Canada." Jubbal's ordeal didn't just end with the image going viral on social networks.
The bogus photo found its way to the front page of one of Spain's major newspapers, La Razón, juxtaposed to the words, "one of the terrorists." It's the stuff of nightmares. Worse still, an Italian channel SKY TG24 tweeted the image to its 1.98 million followers, whilst the image also appeared on the channel's website.
The newspaper has since issued an apology, but it's too little too late. Fuel has been added to the fire. Jubbal's case isn't the first occasion when images of Sikhs in the media have been conflated with Islamic extremists.
On 12 September 2001, an American Sikh, Sher Singh was on a Boston bound Amtrak train to New York, when it was stopped in Providence, Rhode Island. His "suspicious" appearance had caught the attention of the Federal Bureau of Investigation (FBI) who apprehended him with local police, along with bomb-sniffer dogs. As he was arrested at gunpoint, one officer was reported to say, "How's Osama bin Laden?"
Members of the public assembled at the platform during his arrest and were reported shouting, "you killed my brother" and "kill him." The image of a turbaned and bearded Sher Singh being handcuffed was transmitted across the main television networks (like CNN, Fox) alongside images of Osama bin Laden. The identity of the 'enemy' was framed in the minds of vengeful America.
Ignorant racism
Racism along with its younger bedfellow 'Islamophobia' is taking its toll on adherents of the world's 5th biggest faith. In the months following 9/11, US advocacy group The Sikh Coalition reported 300 hate crimes against Sikhs.
The first person to be killed in retribution for 9/11 was Balbir Singh Sodhi, a Sikh gas station owner from Arizona. There's an inherent fear that with every terror attack comes the real possibility Sikhs will be targeted either because of the colour of their skin or their religious attire.
In Wisconsin a gunman with ties to white supremacists shot dead six Sikhs in a gurdwara, terrorising a whole community. This year in Britain, a Neo-Nazi who took "revenge" for Fusilier Lee Rigby was jailed for trying to behead a Sikh dentist. With the rise of Islamic State (Isis) and the loss of innocent lives in Paris, it will not be hard to imagine further misguided retribution, sooner or later.
The bullying of Sikhs online and in schools has been previously reported, but Jubbal's case is unique and has been equated to "revenge porn" by Claire Wardle – research director at the Columbia's School of Journalism.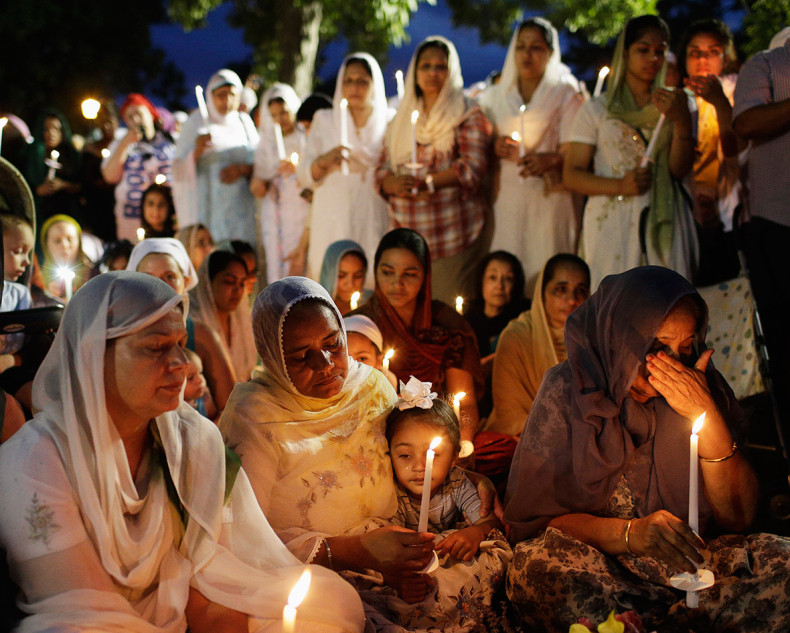 The quintessential Sikh warrior
When many faced with his circumstance would have been overwhelmed, Jubbal demonstrated he was made of sterner stuff. He leapt into action like a quintessential Sikh warrior. He is an adherent of a religious group with 25 million followers worldwide; the biggest populations outside of India residing in Canada and Britain.
Sikhism began with the teachings of Guru Nanak, born in 1469, in what is present day Nankana Sahib, Pakistan. Nanak dedicated his life to interfaith dialogue, focusing his energies on reconciliation and peace. He categorically rejected caste discrimination and fought tirelessly for women's rights. In one of his first sermon's he said, "there is no Hindu, there is no Muslim" – highlighting that God isn't interested in our various labels but the truth that lies in our hearts.
After Nanak, there was a line of nine further living Gurus or teachers. In 1699 the tenth Guru, Gobind Singh transformed the faith into a military fraternity known as the Khalsa or brotherhood of the pure. In the face of constant Mughal aggression (not dissimilar to the ideology we see with modern day IS) Sikhism evolved into India's 'sword arm.'
Those baptised into the new order kept their hair unshorn, wore a turban and other symbols of faith – known as the 5Ks. All men initiated into the Khalsa, were given the middle name 'Singh' meaning 'lion', and women 'Kaur' translating to 'princess'. It's a tragic irony that the identity of the Khalsa is today being conflated with that of Islamic extremism – a force it fought so strenuously against.
On Monday (16 November) Jubbal released a statement through the Sikh Coalition, saying the last few days had been "deeply disturbing". He said, "Sikh articles of faith, such as our turbans and beards, represent a commitment to universal justice, equality, and helping others (seva), yet Sikhs continue to be mistakenly and offensively associated with terrorist networks abroad."
He went on: "we're strongest in the face of terror and bigotry when we stand together. This false image is an opportunity for all of us to hopefully grow together in our shared understanding for one another." The full statement can be read here.
---
Hardeep Singh is a freelance journalist and tweets @singhtwo2.