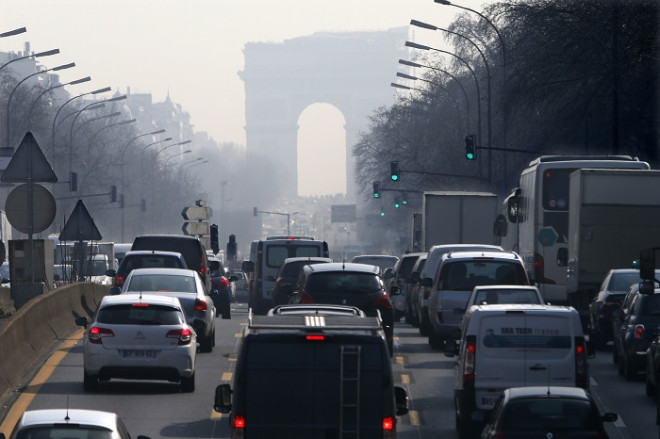 Driving restrictions will come into force in the French capital of Paris in a bid to reduce dangerous levels of air pollution.
As part of the measures, drivers and motorcyclists will only be able to use their vehicles every other day, according to the odd or even numbers on their licence plates.
On Friday, public transport was made available free of charge for three days in an effort to encourage people to reduce their car use.
The French government decided to impose the ban after air pollution exceeded safe levels for five days in a row in Paris and surrounding areas. Paris is more prone to smog than other European capitals because of its high number of private car drivers and France's diesel subsidies.
French environmental experts said recent Paris air quality has been among the worst on record, rivalling the Chinese capital Beijing, which is one of the world's most polluted cities.
Pollutions levels reached 180 microgrammes of PM10 particulates per cubic metre on Friday - more than double the safe limit of 80.
Environment minister Philippe Martin told a news conference on Sunday: "Our core objective is to ensure public safety because we want to end this pollution."
The restrictions were criticised by political rivals and car associations, who said the socialist government is surrendering to pressure from its Green coalition partners ahead of local elections in March.
Pierre Chasseray, president of the drivers' lobby organisation 40 Millions d'Automobilistes, told French television: "This is impossible to enforce, stupid and an attempt to win votes."
Jean-Francois Copé, president of the opposition UMP and major of Meaux, added that the decision was "rushed" and "lacks coherence".
The last driving restriction was introduced in October 1997 in response to pollution from heavy diesel fumes and lasted one day.
The government plans to review pollution levels on Monday before deciding whether to extend the driving restrictions.