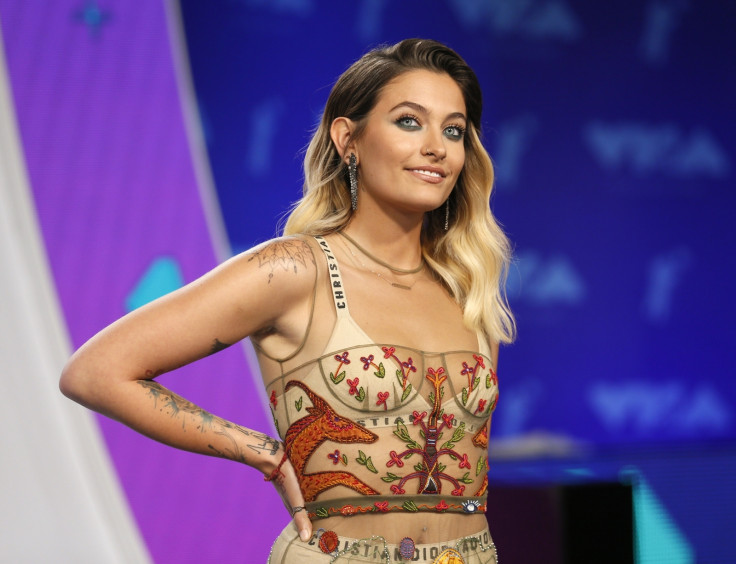 The MTV VMAs 2017 red carpet arrivals saw many female celebrities chose to flaunt their flawless figures in sheer outfits. And we are not complaining! Paris Jackson, however, took the see-through craze to another level by showing off her nude-coloured bra and matching underwear for the mega event at The Forum in Inglewood, California.
The daughter of late music legend Michael Jackson looked stunning in a Christian Dior ensemble, which included a nude-coloured tulle dress with detailed embroidery of flowers and fiery red dragons. She completed her eye-popping look with matching strappy heels and ombré hairdo.
But the 19-year-old model wasn't quite done with just a striking red carpet appearance. She later turned heads by locking lips with 33-year-old DJ Caroline D'Amore in the press room of the event.
While presenting the award for the best pop song, Jackson also gave a powerful speech against the recent white supremacist attacks in the US.
"If we were all to put our voices together, do you know the difference we could make? If we were to stand up all united as one, our impact, it would be "yuge." It would be "yuge." Believe me, "yuge." And that's not fake news," she said at the award ceremony, taking a dig at US President Donald Trump in the process.
"So let's leave here tonight remembering that we must show these Nazi, white supremacist jerks in Charlottesville and all over the country... With liberty as our slogan, we have zero tolerance for their violence, for their hatred, and their discrimination. We must resist!"