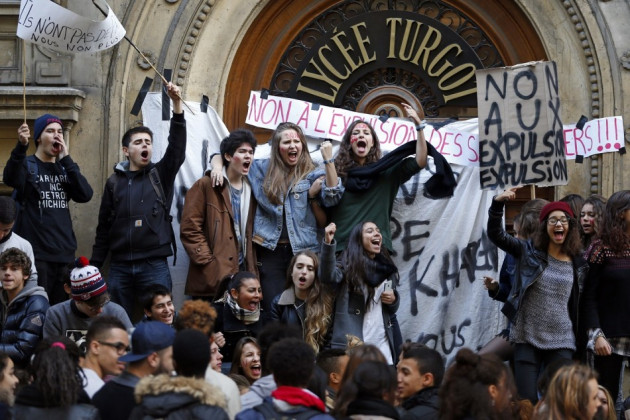 Hundreds of French students blocked access to their schools and marched through Paris to protest a police crackdown on illegal immigration in the wake of the expulsion of a teenage Kosovan girl.
High school pupils in the French capital disrupted lessons and erected barricades at the entrances to about 20 institutes after the case of 15-year-old Leonarda Dibrani rocked the political scene.
"We are rallying for the return of the students who have been expelled," Steven Nassir, a spokesman for the student union Fidl told AFP.
"It's unacceptable that, under a leftist government, we have to show our papers to go to school. Everyone has a right to education."
Dibrani, a Kosovan of Roma gypsy origin, was detained by police in front of her classmates during a school trip and sent back to her native Kosovo, where she re-united with her parents and five siblings who were denied asylum and then kicked out.
"[She] was crying. She was upset," immigration rights activist Jean-Jacques Boy said.
The expulsion was described as inhumane by rights groups and sparked outrage across the country.
It also landed Manuel Valls, the interior minister in President Francois Hollande socialist government, in hot water.
Valls has recently stepped up efforts initiated under Nicolas Sarkozy's conservative government to dismantle illegal Roma camps and expel their inhabitants, claiming the majority of Roma people don't want to integrate into French society.
His remarks came at a time when support for the far-right National Front (FN) party, which advocates for tighter immigration policies, has seen a recent surge.
Opinion polls showed a majority of French people (93%) agreed with Valls's point on the lack of intergration and approved government immigration policies.
However Valls's hard stance was less popular with his fellow socialist party members, some of whom accused him of being a right-winger.
Prior to the unrest Valls, who insisted he is "leftist", had ordered an internal probe into Dibrani arrest and expulsion.