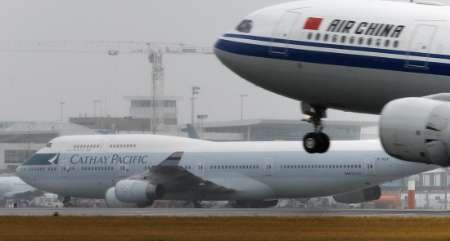 A passenger attempted to hijack a plane using a Toblerone bar.
23-year-old Antti Oskari Manselius tried to divert Cathay Pacific Flight 270 while wearing a blanket as a cape and brandishing the chocolate bar, a court has heard.
The flight was six hours into its journey from Amsterdam to Hong Kong when Manselius, a Finnish national, approached flight attendants demanding that the airliner divert to the Winter Olympics in Sochi so he could attend the games.
A flight attendant who witnessed the incident told the court that Manselius wrapped an economy class blanket around his head, leaving only his eyes visible, and used a second blanket as a cape.
The attendant added that he then walked towards the cockpit holding the large chocolate bar "like a sword" and told flight attendants he was "robbing" the plane.
Manselius said he wanted the flight to change its route and divert to the Russian resort of Sochi, so he could watch the Olympic Games.
37-year-old flight attendant, Leung Hiu-Lun, told the court: "He said: 'I am robbing the plane now. I want to see the Olympics in Sochi and I need to get off the plane now'. He was furious. He made me feel like he was trying to endanger the aircraft."
The passenger returned to his seat and an hour later, under the captain's instruction, several passengers and crew members restrained him with handcuffs.
He was arrested when the plane landed in Hong Kong.
Manselius appeared in court in Hong Kong charged with disorderly behaviour and issuing a bomb hoax during the flight.
He pleaded not guilty, saying he was only making "fun and jokes" to entertain passengers and that his threats were not serious.
The court heard that Manselius suffers from mental health problems and was transferred to a psychiatric facility after his arrest.
The trial continues.