A woman passenger was killed and three others injured when a mystery attacker raked their plane with bullets as it came in to land at Peshawar airport, Pakistan.
Pakistan International Airlines flight PK-756 was about to complete its flight from Riyadh, Saudi Arabia, with 178 passengers aboard. Police believe 12 bullets were fired, six hitting the plane, four hitting passengers and crew and one the engine. The captain was almost hit. The plane then made a heavy landing, injuring others.
Mohammad Kifayatullah Khan, a PIA official who entered the plane, said the dead woman was sat next to her daughter when she was struck in the head. "When I went inside the plane, I saw the woman lying on the seat and her nine-year-old daughter was crying, 'My mother is dead, my mother is dead'. All the passengers were panicked. Some of them wanted to get out as soon as possible because they were afraid of fire inside the plane."
The woman died on the way to hospital. Khan said authorities were scouring the area in a bid to find the mystery assailant. The investigations seems likely to focus on the possibility he is one of the militants the government has been fighting in Peshawar, a volatile region in Pakistan's northwest which borders Afghanistan.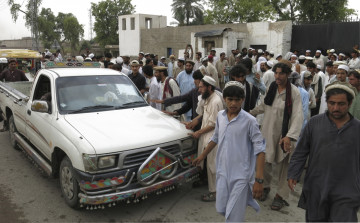 Pakistan's military launched a major offensive in the northern tribal area of North Waziristan on 15 June and have been prepared for a potential backlash. The military claims to be trying to stop militants in the region attacking targets in both Pakistan and Afghanistan, but the campaign has seen some 350,000 refugees flee the area.
Today's attack comes just a fortnight after Uzbeks fighting for Pakistan's Taliban attacked the country's busiest airport, Karachi, leaving 36 dead including 10 attackers.
Speaking about today's attack, Information Minister Shah Farman said firing incidents were "a usual occurrence in the area".