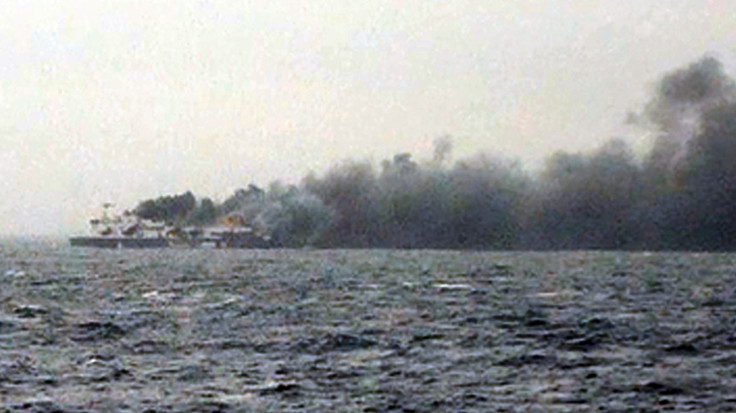 A man has been confirmed dead as rescue teams battle gale force winds to rescue passengers from a burning ferry off the coast of Corfu.
The man jumped from the vessel to escape the flames, said authorities.
Helicopters were attempting to take passengers in pairs from the upper decks of the Italian flagged Norman Atlantic, where they were gathered for safety and airlifting them to other vessels, officials told Reuters.
Each airlift was taking about 15 minutes, the official said, with Italian and Greek helicopters involved in the operation.
Tugboats are believed to be attempting to quell the fire.
The BBC reports that seven people have been airlifted from the ship, including two children.
It is not known how many of the boat's 478 passengers are still trapped on board.
Briton Nicholas Channing-Williams and his fiancée Regina Theofilli are believed to be trapped on board. Channing-Williams' mother, Dotty, told Sky News that she had been talking to her son on mobile telephone when the line was cut.
She told the network: "People in Greece are saying that their communications have been cut off, so as not to hamper rescue operations which I can fully understand.
"They're keeping me updated via the news coming over the Greek television. But nevertheless it is very, very worrying and very scary."
Earlier, Greek authorities said that 150 had managed to get to safety.
Explosions have been heard on board the ship, which is also carrying more than 200 cars.
Passengers still on board spoke of their terror.
A passenger told Greek TV: "They tried to lower some boats, but not all of us could get in. There is no coordination. It's dark, the bottom of the vessel is on fire.
"We are on the bridge, we can see a boat approaching… we opened some boxes and got some life vests, we are trying to save ourselves."
Greek shipping minister Miltiadis Varvitsiotis said: "We are doing everything we can to save those on board and no one, no one will be left helpless in this tough situation," he told reporters. "It is one of the most complicated rescue operations that we have ever done."
The ferry carrying 423 passengers and 55 crew was en route from Greece to Ancona, Italy, when it sent distress signals at 6am local time.