Paul Nuttall odds-on favourite to succeed Nigel Farage bookies reveal
Ladbrokes and William Hill spoke to IBTimes UK about the latest Ukip leadership election.
Former Ukip deputy leader Paul Nuttall has become the firm favourite to become the next head of the Eurosceptic party, according to British bookmakers.
Ladbrokes and William Hill have priced the Bootle-born politician at 1/3 and 2/7 respectively. The early rankings mean Nuttall currently has an up to 77% implied probability of victory.
Matthew Shaddick, head of political betting at Ladbrokes, told IBTimes UK he had a "small bet" at around 20/1 on Nuttall when uncertainty surrounded Steven Woolfe's future.
"Those who are a bit more familiar with the Ukip membership than I have said from the start that if he ran, he would be a pretty strong favourite," Shaddick said.
"As soon as he said he would run yesterday, we saw a flood of money on him which has forced him to 1/3.
"There are just so many weaknesses with the other two [Suzanne Evans and Raheem Kassam] in the betting at the front."
Shaddick revealed Ladbrokes has taken a "fair bit of money" on Kassam, the former Nigel Farage aide who won the backing of Ukip donor and Leave.EU co-founder Arron Banks over the weekend.
"There's certainly more confidence in Kassam than Evans right now, even though Evans' price is shorter," he said. "I wouldn't be surprised if they swapped around and Kassam became second favourite."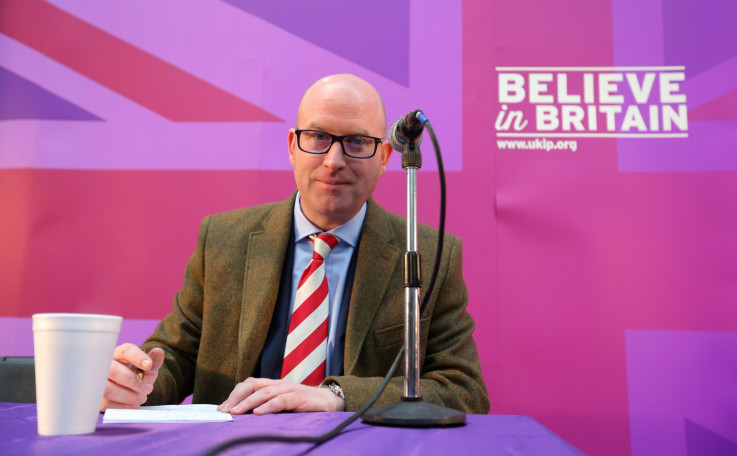 Paul Nuttall
Getty
Graham Sharpe, William Hill's political betting expert, is also bullish about Nuttall's chances.
"[He's] in a fairly prominent position in the party and is on what you might consider to be the stronger of the two competing sides and, therefore, is a natural choice to be the favourite," he told IBTimes UK.
"If we're wrong, then we'll soon find out because people will back the Evans' of this world and we'll be forced because of that to change the prices.
But Sharpe warned the current betting odds did not mean Nuttall was an absolute certainty since Woolfe, who quit the race and Ukip after an "altercation" with a fellow party MEP, was 1/8 favourite at one point.
"At the moment Nuttall is in poll position...but it's not a given that if you start in front you stay in front."
Ukip's National Executive Committee (NEC) have set a nominations deadline of midday on 31 October. The governing body said a new leader will be in place by 28 November following Diane James' resignation after just 18 days in the role.
Prospective candidates will need 75 signatures from at least 10 branches to be eligible and need to pay a deposit of £5,000 ($6,122). Ballots will be sent to Ukip members "shortly after" 11 November.
The latest opinion poll from Ipsos MORI, of more than 1,000 people between 14 and 17 October, put Ukip on 6%. The party came fifth behind the Greens in the Witney and West Oxfordshire by-election last week.
Confirmed Ukip leadership candidates
Paul Nuttall (former deputy leader) [ 1/3 & 2/7]
Suzanne Evans (former deputy chairman) [4/1 & 9/2]
Raheem Kassam (former Nigel Farage aide) [7/1 & 8/1]
Peter Whittle (London Assembly member) [20/1 & 20/1]
Bill Etheridge (West Midlands MEP) [33/1 & 33/1]
David Kurten (London Assembly member) [66/1 & N/A]
Andrew Beadle (Former parliamentary candidate) [N/A]
John Rees-Evans [100/1 & N/A]