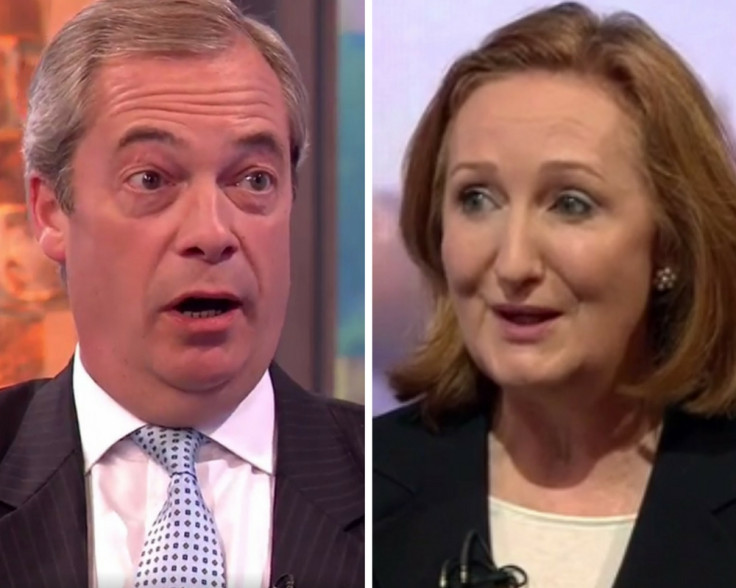 Nigel Farage has said he will not back Suzanne Evans's bid to become the latest leader of Ukip, after she claimed the party's image was "toxic".
Evans announced her bid to lead the party during BBC's Andrew Marr show on Sunday (23 October). During her interview, she said her vision for Ukip was for it to retake the "centre ground" of UK politics and bring it back from its far-right wing.
However, Farage, speaking shortly afterwards on ITV's Peston on Sunday, told the show, "I won't be voting for her, not after that."
He said: "For her to talk about the party being toxic, for her to already declare one of the candidates who's running, Raheem Kassam, as being far-right, I don't view this as being a very good start.
"She may well think that herself, but that is not how Ukip members and Ukip voters feel."
The new Ukip leadership race was sparked after Diane James stepped down from the role, after just 18 days in the job.
Evans, Kassam – a journalist and Paul Nuttall have all since put their names forward for the position.
James was widely expected to be replaced by Steven Woolfe, who has since quit Ukip after claiming the party was "ungovernable without Farage" at the helm. Woolfe's claim came after he was allegedly attacked by Ukip MEP Mike Hookem, during a party meeting.
Speaking on The Andrew Marr Show, Evans said: "I think I'm the right person to lead Ukip into the challenges ahead.
"I'm absolutely the right person to champion the cause of those 17.4 million people who voted to leave the European Union and are now seeing their democratic vote undermined by the political class. I absolutely want to be their champion."
The challengers for Ukip's leadership
Raheem Kassam is the editor-in-chief of Breitbart London – the UK branch of the far-right Breitbart News Network. In 2014, he was awarded an Islamaphobe of the Year award by the Islamic Human Rights Commission.
Paul Nuttall was Ukip's deputy leader during Nigel Farage's reign. He is the president of the Initiative for Direct Democracy in Europe, a pan-European political alliance that is dominated by Ukip, and receives £1.5m in EU funding. He is also a member of the European Parliament for North-West England.
Suzanne Evans started her career as a journalist and broadcaster, hosting various BBC radio programmes throughout the 1990s, including Radio 4's Today and Women's Hour.
She later became a Conservative Party councillor for the London Borough of Merton in May 2010.
She quit the party in 2013 and defected to Ukip in 2014, where she was deputy chairman and head of policy between July 2014 and February 2016.
She indicated her plan was to occupy the centre ground in politics, "taking the best from the left and the right". James also said she would try to win over the estimated nine million Labour voters who voted to leave in June's EU referendum.
Her comments, which drew criticism from Farage, were how she did not envision the party's future to remain in the far right.
She said: "Our future as a political party in Britain does not lie in that far-right wing. I don't see a groundswell of opinion in this country for more far-right wing policies.
When asked by Marr if she thought Kasaam would take the party to the far-right, Evans replied, "I don't think there's any doubt about that and our members don't want that.
"We've taken a lot of stick in Ukip because we've had a slightly more toxic image than we should have and the ones that have done the campaigning have felt the brunt of that.
"Being abused, being physically and verbally assaulted in the streets. They don't want to have a fresh injection of toxicity that's going to make it even more difficult for them. They want policies that help us win."