Does Steven Woolfe resignation and Brexit vote spell end of Ukip's purple reign?
2016 should have been a year of celebration for the 'People's Party', but its future looks uncertain.
"I have come to the conclusion that Ukip is ungovernable without Nigel Farage leading it and the referendum cause to unite it," said Steven Woolfe MEP, as he quit Ukip's leadership race and the party on Monday night.
Woolfe's move came just over a week after he was hospitalised following an "altercation" with a fellow Ukip MEP in the European Parliament. The former City barrister had been tipped for the top of 'People's Party' until the incident.
Diane James had quit after just 18 days as Ukip leader, allowing Woolfe to launch another bid. His first campaign was blocked by the party's governing body because he submitted his application papers late.
Now Ukip faces more turmoil and even extinction.
Isabel Oakeshott, who is co-writing a book about the Brexit campaign with Ukip donor and Leave EU founder Arron Banks, reported the party is £800,000 ($979,780) in debt.
But a Ukip spokesman denied the claim, telling IBTimes UK it is "wholly false and untrue".
Banks previously said he would only open his chequebook for Ukip again if Woolfe was elected leader. A source told IBTimes UK that the insurance tycoon is waiting to see Farage's next move before he launches his "right-wing Momentum" group.
The Eurosceptic firebrand remains a big draw and would significantly boost Banks' new campaign. All this uncertainty seems rather ironic because 2016 should be the year of Ukip.
Their side won the EU referendum, the party attracted more than 3.8 million votes last year and Labour's northern heartlands are arguably vulnerable to social conservative advances, so long as Jeremy Corbyn remains opposition leader.
But Woolfe's statement hit on a home-truth. Ukip's raison d'être has been achieved, while its less-known policies, such as allowing new grammar schools, have been gobbled up by Theresa May and the Conservatives.
There could be some hope though, according to Professor Matthew Goodwin. The Ukip expert and University of Kent academic said Paul Nuttall MEP can win the leadership.
Nuttall was deputy leader of the party under Farage and the Bootle-born politician has the North of England credentials to take on Labour.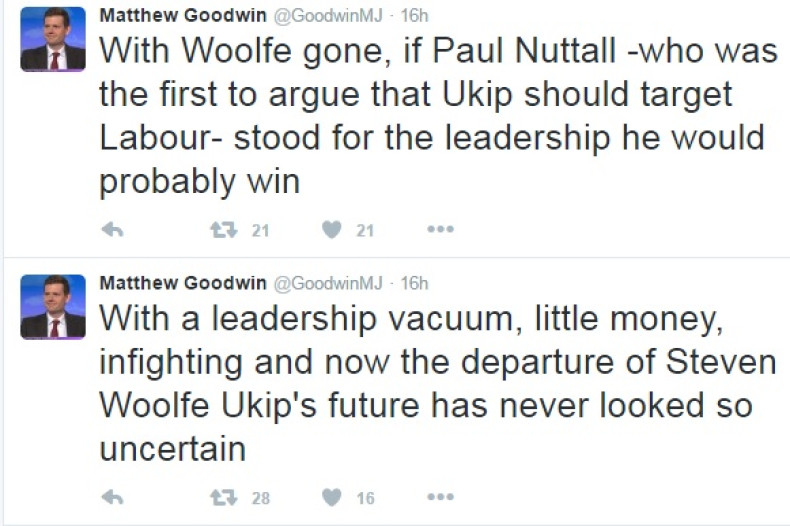 But Nuttall's name is not currently in the hat. Instead Andrew Beadle, Bill Etheridge MEP, London Assembly Member Peter Whittle and Breitbart London editor Raheem Kassam are in the running.
Kassam, a former chief of staff to Farage, billed himself as the unity candidate last night. "I should have liked to see some form of internal disciplinary process [for Woolfe to face] but for the party to swiftly move forward, together," he said.
"This has not happened, and it is yet another example of how the party needs a leader who will commit to uniting us, and fighting not amongst ourselves, but the forces of the continuity Remain campaign as well as being the only real opposition to the British government on a whole host of issues."
But what party will the new leader inherit and is the purple reign over?
Ukip's latest leadership election timetable
Nominations open on 17 October.
Nominations close at midday on 31 October.
A "series" of hustings will be held during the first two weeks of November.
Ballots will be sent to members "shortly after" 11 November.
New leader announced on 28 November.