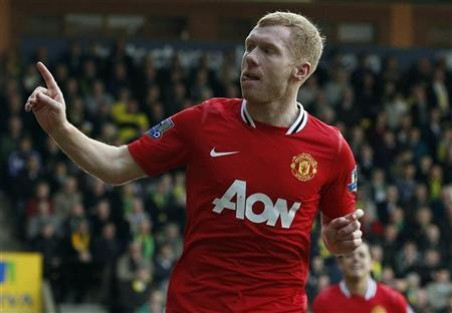 Since the creation of the Premier League fans have witnessed some of the finest midfielders that world football has to offer but few compare to the irresistible Paul Scholes.
Today the quiet, unassuming midfielder will celebrate his 38th birthday in an undoubtedly understated fashion as he prepares for United's game against Norwich at the weekend. Ever since he joined the club's academy 24 years ago, football has occupied his every waking thought.
Few English players have garnered so much support from around the globe. Commentators long ago ran out of superlatives to describe his performances, while his fellow professionals have lavished praise on his incredible career.
At the end of the 2010/11 season, it seemed we would be deprived of seeing this gifted midfielder in competitive action when he finally called time on a storybook career.
"We are going to miss a truly unbelievable player," said Sir Alex Ferguson. "Paul has always been fully committed to this club and I am delighted he will be joining the coaching staff from next season. He has always been inspirational to players of all ages."
However, coaching would have to wait as just six months later Ferguson made him an offer which was impossible to refuse. With a trophy room filled to the brim thanks to 10 league titles, three FA Cup's, two League Cup's and two Champions League winners medals, it seemed there was nothing left for Scholes to achieve.
Schioles duly answered the SOS call from Ferguson and was soon once again adding some much needed class to the Manchester United midfield. He turned around the season and helped the club finish cruelly short of winning the league title because of goal difference. Had he been there the whole season, then who's to say he wouldn't have won an eleventh league title.
The former England international has barely missed a beat and is once again delivering match of the match performances for Manchester United. New signing Robin van Persie has hailed the influence of Scholes and he is in good company when it comes to waxing lyrical about the man from Salford.
Here is just a small taste of the compliments that have been thrust upon Scholes by some of the finest footballers to ever grace the game.
Xavi
"In the last 15 to 20 years the best central midfielder that I have seen - the most complete - is Scholes. I have spoken with Xabi Alonso about this many times. Scholes is a spectacular player who has everything."
Pep Guardiola
"Out of everyone at Manchester United, I would pick out Scholes - he is the best midfielder of his generation."
Zinedine Zidane
"You rarely come across the complete footballer, but Scholes is as close to it as you can get. One of my regrets is that the opportunity to play alongside him never presented itself during my career."
Sir Alex Ferguson
"In my mind, Paul Scholes is one of the best players United have produced. The amazing thing is that he has had to overcome a couple of bad knee injuries and a serious eye problem along the way, yet he is still playing at the very top. Ryan Giggs has been an incredible athlete throughout his career, never put on an ounce or had any major injuries to contend with. So that makes Paul probably a bigger phenomenon in his own way."
Patrick Viera
"The player in the Premiership I admire most? Easy - Scholes."
Theirry Henry
"Every time we used to play against Manchester United, we always used to be scared of Paul Scholes. His vision, the way he sees the game, his goals ratio... he has indestructible mental strength and he is a genuine competitor."
Socrates
"I love to watch Scholes, to see him pass, the boy with the red hair and the red shirt. Good enough for Brazil."
Wayne Rooney
"He's the best I've played with and against."
Now 38, Scholes shows no signs of slowing down and Manchester United fans must be asking one simple question: how do you replace Paul Scholes? The answer, you cannot.