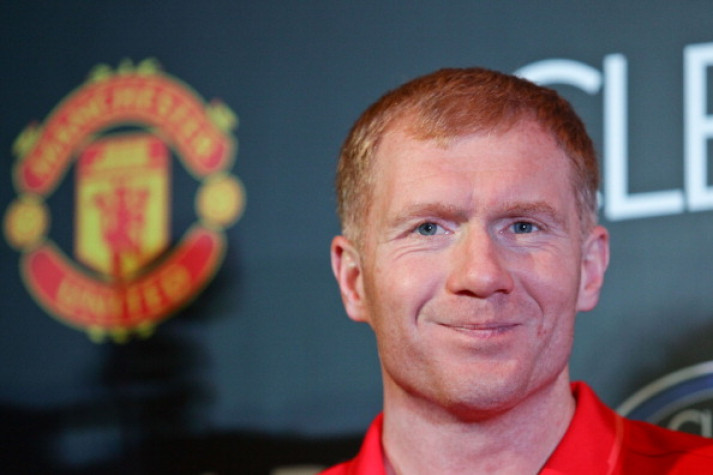 Manchester United legend Paul Scholes has hailed the summer signings of "top-quality" players such as Angel Di Maria and Radamel Falcao but is uncertain how manager Louis van Gaal will fit them all in the same starting line-up.
Juan Mata, Wayne Rooney and Robin van Persie have formed the attacking trio in the 3-4-1-2 formation during the first games but at least one of them may have to go to the bench against QPR on Sunday 14 September to make space for the new signings.
"The calibre of player we have brought in is top quality, like Di Maria and Falcao," Scholes was quoted by Manchester United official website.
"These are proper players. We just have to find a way of getting them all in the same team, playing well and scoring goals, which we have struggled to do a little bit. Defensively, we haven't been great either so he needs to sort that out. Then I'm sure we can be vying for Champions League places."
Questioned whether he considers it a problem to fit everyone into a starting 11, Scholes said: "It is, yeah, but it's not a bad problem to have.
"Fans have been moaning about the type of players that were at the club and now you can't do that. I think [United executive vice-chairman] Ed Woodward has done his job brilliantly during this transfer window with some great signings. Now it is over to the manager to sort everything out and make us a good team again."
Nevertheless, Scholes believes Di Maria should regain his original role as a winger rather than playing in central midfield.
"I would like to see Di Maria play wide. Whether van Gaal is going to play with wide players, I'm not too sure, but we saw the other night that he was devastating for Argentina against Germany in wide areas. Whether it is the right or left-hand side, his pace is frightening," he said.
"He can go past players and score goals. That is something we have been missing. I am sure he can play in the central areas as well, but if I was picking him then it would be in the wide areas."
Meanwhile, speaking about Falcao, he said: "Falcao's goalscoring record is brilliant from when he has been at Porto and Atletico Madrid. The goals he has scored have been important, then there is the movement he brings and his experience as well at 28 years of age.
"You just hope his knee is right, I think that will be the main problem. But once he gets going, and Di Maria can start creating chances for him, then I'm sure we will start scoring goals."