Peace Day: Are Celebrities' Contributions to World Peace Counter-Productive?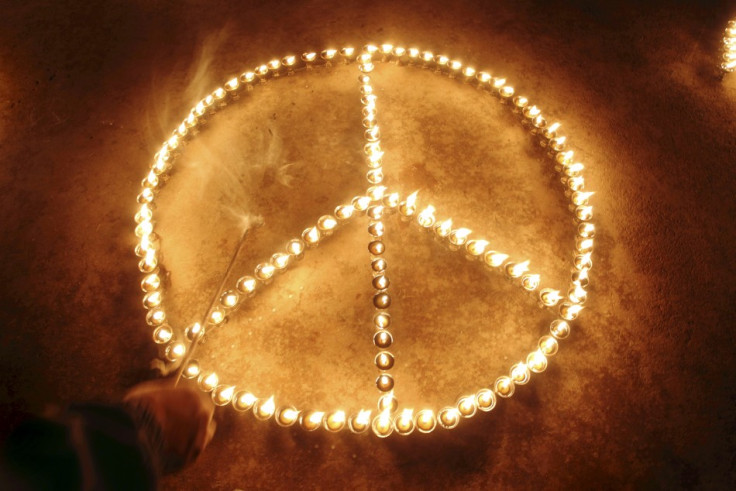 Today is Peace Day, a day "for wide-scale community action and a day for UN agencies and aid organisations to safely carry out life-saving work" and is a project brought to life by the Peace One Day organisation, supported by stars such as Jude law or Angelina Jolie and created by Jeremy Gilley.
Figures available on the organisation's web site show that by 2007 about 100 million people had been active on Peace Day and also indicate how Jude Law, and ambassador for the movement and Gilley travelled to Afghanistan to help promote a campaign that has resulted in 4.5 million children being vaccinated against polio in previously unreachable areas.
In 2008, the UN Department of Safety and Security recorded a 70% reduction in violent incidents in Afghanistan on Peace Day and over 50,000 children and women in Afghanistan were vaccinated in 23 locations against all vaccine-preventable diseases, on Peace day 2010, so clearly the movement has been pretty active and efficient.
In addition, Peace One Day also sponsors, peace concerts, and education-based project and is planning an gigantic event in 2012, to create "the largest reduction in global violence in recorded history, both domestically and internationally" and already has guest stars such as Lenny Kravitz, Annie Lennox, Yusuf Islam (formerly known as Cat Stevens), Bryan Adams, Peter Gabriel, John Legend, Kasabian, Kate Nash, Corinne Bailey Rae, Dave Stewart, Jimmy Cliff, Marc Almond, Faithless, James Morrison, Starsailor, Patti Smith, Charlie Winston, Youssou Ndour, Vanessa Paradis...
As the years go by and the organisation grows however, the public attention seems to focus more on the movement's founder and star supporters than on peace itself.
Googling One Peace Day will rapidly bring up articles relating Gileys' life, describing his younger years as tough and explaining how "Dyslexic and without a single qualification to his name, save "a D in pottery", Gilley "was nailed at school for being thick. I always thought I was really thick," he says."
Giley however did not seem to let his bullies affect his self-confidence as by the age of 12 he auditioned for the West End musical Bugsy Malone, and got the lead. He also later on went to theatre and ballet school as well as at the Royal Shakespeare Company.
Giley's efforts have started to pay off with thousands of people directly benefiting from the organisation and his movement was officially supported by the UN when Resolution 55/282 which officially designates September 21 as that day of peace.
A problem that subsists however is that while highlighting the achievements is important, emphasising the remaining issues is even more. Peace today has become an utopic word, an ideal that seems unreachable as conflicts and violence have it seems forever dominated the international scene.
From Colombia, to Indonesia, Afghanistan, Pakistan, Somalia, Libya, Syria, Yemen, or Israel and Palestine, conflicts map the political world and in recent years peace has been more threatened by internal conflicts where violent insurgencies are being used than inter-state wars. Perhaps the UN could have pushed stronger for the enforcement of cease fires in the countries the most affected as while concerts and celebrity support provides public awareness and funds, much more consistent efforts are needed to promote peace directly in conflict zones where the poorest are often detached from the outside world.
© Copyright IBTimes 2023. All rights reserved.