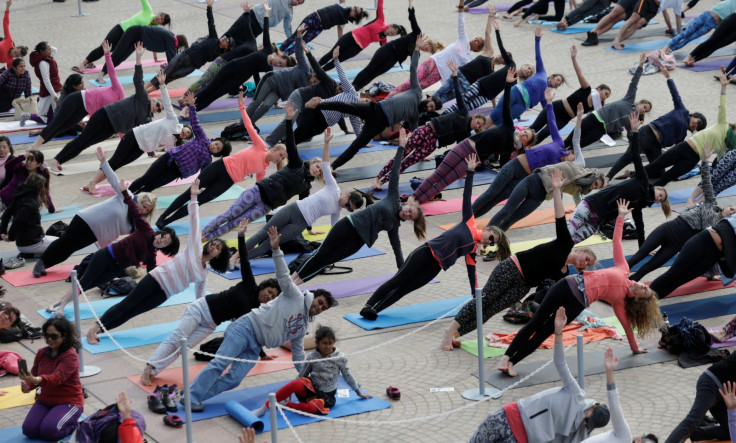 Around 400 yoga pants-cladded women marched in a in the small town of Barrington, Rhode Island, to stand up against body-shaming after a letter written by a resident to a local publication told women to stop wearing the popular clothing item.
The letter, printed on 20 October on the local paper The Barrington Times, called wearing yoga pants outside the yoga studio "the absolute worst thing to ever happen in women fashion".
The author, Alan Sorrentino, wrote:"Like the mini-skirt, yoga pants can be adorable on children and young women who have the benefit of nature's blessing of youth. However, on mature, adult women there is something bizarre and disturbing about the appearance they make in public."
He proceeded to give alternative clothing choices to the "stinky, tacky, ridiculous looking yoga pants" and set the age limit for wearing yoga pants without looking "weird" at 20 years of age.
He concluded with a message: "To all yoga pant wearers, I struggle with my own physicality as I age. I don't want to struggle with yours."
The letter went viral and solicited four written responses to the publication challenging Sorrentino's message and supporting women's freedom to make their own clothing choices without being judged.
A "peaceful yoga pants parade", as the event was called on Facebook, was swiftly organised on 23 October. Demonstrators marched past the street where Sorrentino lives and concluded the rally with an open-air yoga session, also collecting personal hygiene items for Sojourner House, a local domestic violence organisation.
"This is NOT a hateful protest against Alan. This a wonderful group of people celebrating our bodies and our right to cover them however we see fit. And while yoga pants seem to be a silly thing to fight for, they are representative of something much bigger – misogyny and the history of men policing women's bodies," the parade organisers' wrote in announcing the event.
According to the Associated Press, Sorrentino claimed to have received "vicious" responses to his letter and even death threats. He implored marchers to stay away from his home and maintained that the letter was meant to be humorous. During the protest, police guarded Sorrentino's house, which was displaying a banner saying "free speech".
Writing on the Facebook page for the event, Jamie Patrice, one of the parade organisers, invited protesters to not engage with Sorrentino. She wrote: "I have reached out to Alan and invited him to join us, he very impolitely declined".