The Pentagon on Friday (17 March) released an image to confirm that their recent air strikes on the al-Jina village in Syria's Aleppo province killed several "high-value" al-Qaeda militants and not civilians praying at a mosque.
The post-strike aerial photograph of the area targeted by US air strikes on Thursday reportedly showed the mosque intact and a building adjacent to the mosque in rubble.
The UK-based Syrian Observatory for Human Rights reported that the mosque complex comprised of a centre belonging to an Islamist organisation and a nearby prayer area. The air strike destroyed the religious centre and killed at least 49 people and wounded dozens, mostly civilians who had gathered for a prayer session, the observatory noted.
In the wake of those reports, Pentagon spokeman Navy Captain Jeff Davis said during a media briefing: "I wanted to draw your attention to it, because I think there are a lot of reports suggesting that we had targeted a mosque.
"We did not. Of course, you know we never would," he said and added that the air raid, conducted by manned and unmanned aircraft at around 7pm local time (5pm GMT) targeted a meeting place of al-Qaeda terrorists – about 17 miles southwest of Aleppo.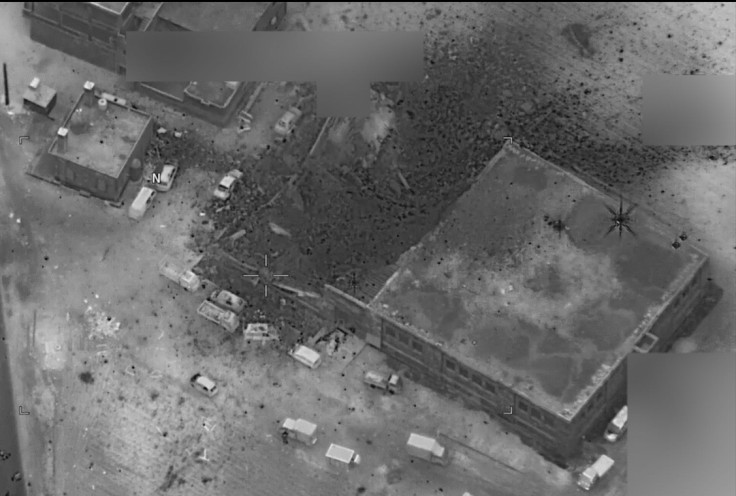 "We struck a meeting of senior al-Qaeda terrorists — some of these were likely high-value individuals," he said, noting that they were currently assessing the result of the strike.
"We do not currently assess there were any civilian casualties. As always, you know we take extraordinary measures to mitigate the loss of civilian life in our operations."
Davis also said that the targeted area has been a significant safe haven for the Islamist militant group since it re-established a Shura Council in Syria in 2016.
In a statement released soon after the media briefing, Davis said that the photograph was taken five minutes after the strike, which surveillance showed was carried out after the evening prayers concluded, Reuters wrote.
The loss of civilian lives in the fight against extremist forces like Isis and al-Qaeda in Iraq and Syria has become a grave matter of concern for the countries taking part in the fight, with charity organisations urging the countries to exercise extreme caution while targeting civilian areas.
The US is leading a coalition force that is providing air support to local forces in the two countries to drive out militants and the fight is likely to intensify in the coming days.