A Syrian militant group said on Sunday (12 March) that it was responsible for twin blasts in the capital city of Damascus that claimed lives of at least 40 people.
Hayat Tahrir al-Sham has claimed that the target of their attack was Iranian-backed militias, who supported President Bashar al Assad's "tyrannical rule". The group believes the president and his allies are responsible for "killing and displacing" Syrians.
The blasts took place on Saturday near the Bab al-Saghir cemetery in the Old City of Damascus, which houses a number of historic and religious sites. Many of the dead were Iraqi Shi'ite Muslim pilgrims, who were on board two buses as the blasts went off, the Syrian Observatory for Human Rights, a British-based war monitor, said.
The war monitor added that at least 20 pro-government fighters also died in the attack.
According to reports, several rebel groups ­– including al-Qaeda – believe that President Assad's government, who is fighting against radicals, is trying to throw out Sunnis from around Damascus and other areas that are tactically important in the six-year-old Syrian civil war.
For the last six years, Assad is fighting against rebels, who are mainly Sunni Muslim. The president has the support of Iranian-backed Shi'ite militias from countries including Iraq, Afghanistan and Lebanon.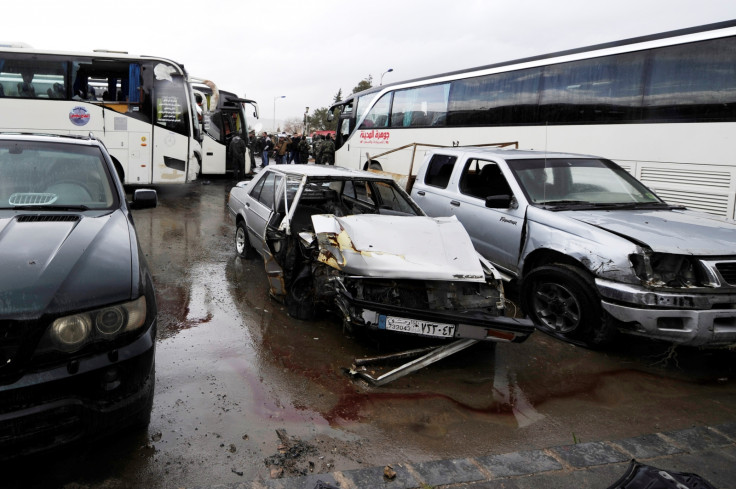 Hayat Tahrir al-Sham commonly referred to as Tahrir al-Sham, also known as al-Qaeda in Syria or al-Qaeda in the Levant, was created from a merger of Jabhat Fateh al-Sham - formerly al Qaeda's Nusra Front - and several other groups. The group is not related to the Islamic State, Reuters reported.