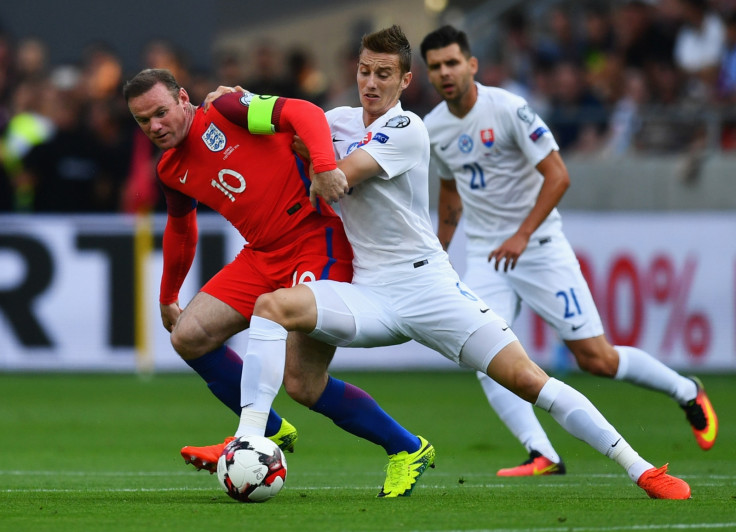 Former England captain Peter Shilton thinks Wayne Rooney should have quit international football after Euro 2016. The 30-year-old forward made his 116th appearance for the Three Lions in their last-minute World Cup qualifying victory over Slovakia.
However, Rooney's position in the team has come under close scrutiny in recent months and Shilton – who holds the record as England's most-capped player in history – believes he should have already quit the international scene. The debate intensified further after Rooney played in a midfield position against Slovakia, despite manager Sam Allardyce's insistence he would operate further forward.
"I don't think he's a striker anymore," Shilton, who won 125 caps for the Three Lions, said of the Manchester United captain, according to BBC Scotland. "We are trying to fit him in, but he's not a midfield player for me. Never will be."
Allardyce said after his first game as England manager that it is "not for me to say" where Rooney plays. But Shilton was unimpressed by Rooney's performance.
"He is spraying a few balls around, but I don't think he's being very effective," Shilton said of Rooney, who has been playing behind Zlatan Ibrahimovic for United this season.
"I thought he should have retired after the Euros. It's not because he could break my record. Far from it. If he does and he plays well, fine."
Meanwhile, another former England captain, Alan Shearer, also said Rooney played too deep in their 1-0 victory against Slovakia. However, he admitted the debate was redundant because England won the match.
"I did think he was too deep in that particular game," he told BBC Radio Sheffield of the England and United captain. "I thought we had a ball-playing centre-half and a sitting midfielder so I didn't think there was any need for him to keep on going and getting the ball off the back four, even deeper than the back four at times.
"I thought he would have been better served playing in the number 10 role and getting the ball and threading passes through further up the field, but they won the game so no one can complain."
This comes shortly after Rooney revealed his intention to retire from England duty at the end of the World Cup campaign. "Russia will be my last opportunity to do anything with England. Hopefully I can end my time with England on a high," he previously said. "Russia will be my last tournament. My mind's made up. I've enjoyed some highs and some lows.
"It's still two years away. I started playing professional football when I was 16 and international football when I was 17. So 15 years of international football is a lot of years. In my eyes, I think that will be the right time to finish."