PewDiePie apologises for anti-Semitic jokes, slams 'unfair media' for taking them out of context
"Old-school media does not like internet personalities because they are scared of us," Kjellberg said.
YouTube's biggest star Felix 'PewDiePie' Kjellberg has apologised for anti-Semitic content in his recent videos, but slammed the media for allegedly misrepresenting him and taking the jokes "out of context". Earlier this week, Disney and Google's YouTube cut ties with the 27-year-old Swede after the Wall Street Journal reported that he posted nine videos over the last six months that featured anti-Semitic jokes, Nazi imagery, swastikas, a Nazi salute and clips of Hitler.
While one video posted on 11 January showed two men holding a banner that read, "Death to all Jews" while laughing and dancing, another posted on 22 January featured a man dressed as Jesus Christ saying: "Hitler did absolutely nothing wrong."
The popular YouTuber, who rose to fame posting videos of himself playing and reacting to video games, earned around $15m (£12m) last year, according to Forbes, and currently has over 53.3 million subscribers on YouTube.
In an 11-minute video titled, My Response, Kjellberg apologised for the "Death to all Jews" video and reiterated that the incident was intended to "show how stupid the website is and how far you can push it by paying $5".
"I am sorry for the words I used as I know they offended people and I admit that the joke itself went too far," he said. "I do strongly believe that you can joke about anything. But I also believe there's a right way and not the best way to joke about things. I love to push boundaries but I would consider myself a rookie comedian and I've definitely made mistakes before.
"But it's always been a growing and learning experience for me... I don't want people to think that I can joke about what I want and it doesn't affect me [because] I'm PewDiePie. I understand these things have consequences. This video is not me trying to justify that."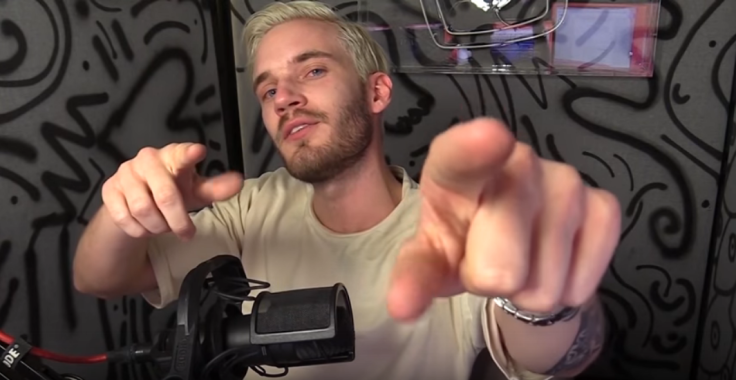 Kjellberg also accused the Wall Street Journal, which broke the news of Disney severing ties with him, of taking what he said "out of context" to Disney and YouTube "obviously cornering them and forcing them to sever their ties with me".
The YouTuber slammed the incident as an "attack" by the mainstream media "to try and discredit me, decrease my influence and my economic worth".
"Old-school media does not like internet personalities because they are scared of us," Kjellberg said.
"We have so much influence and such a large voice, and I don't think they understand that," he said.
While Kjellberg acknowledged that he "took things too far", he said the reaction and outrage to the incident has been "nothing but insanity".
"It's fine to not agree with a person's sense of humor, but calling me a fascist... how is that helping anyone?"
"If there's anything I've learned about the media from being a public figure is how they blatantly misrepresent people for their own personal gain," he continued. "[They] even viciously attack people just to further themselves."
The Journal pointed out that Kjellberg's content and videos have found favour with neo-Nazi websites including the Daily Stormer which posted a banner on their site shortly after his video was posted in January. The banner reads: "The world's #1 PewDiePie fansite."
"He could be doing all this only to cause a stir things up and get free publicity," the Daily Stormer wrote. "Ultimately, it doesn't matter, since the effect is the same; it normalises Nazism, and marginalises our enemies."
Kjellberg previously said that he does not support "any kind of hateful attitudes" nor does he support "these people in any way".
Towards the end of the video, Kjellberg tears up and thanks supporters who stood by him. He concludes with a message to the Journal saying: "I'm still here, I'm still making videos. Nice try, Wall Street Journal. Try again, motherf***ers!" before flipping them the finger."
© Copyright IBTimes 2023. All rights reserved.