YouTube's biggest star PewDiePie causes controversy with 'Death to all Jews' video
World's most popular YouTuber lands himself in hot water again.
YouTube's biggest star has caused fresh controversy after encouraging a couple of performers to dance while displaying a banner calling for "DEATH TO ALL JEWS".
PewDiePie, who has more than 52 million subscribers, posted the video on his popular YouTube channel on Wednesday (11 January).
It saw the Swedish web-based comedian, real name Felix Arvid Ulf Kjellberg, pay for two scantily clad performers to engage in a short dance routine featuring a struggle over a rolled scroll that they then unfurl to reveal the hateful message.
PewDiePie, 27, who reportedly made more than $15m last year, had paid the duo to perform the controversial stunt using the website Fiverr, which allows people to sell any service for five dollars.
The performers, who call themselves "funnyguys", advertise that they will paint any message on their body in exchange for money while dancing in the jungle.
While many choose their own name or a funny message, PewDiePie jokingly asked the pair to display: "DEATH TO ALL JEWS".
He published the resulting clip, showing them dancing and laughing while holding the antisemitic message above their heads, on his YouTube channel.
While some fans found the clip funny, others said the star had gone too far.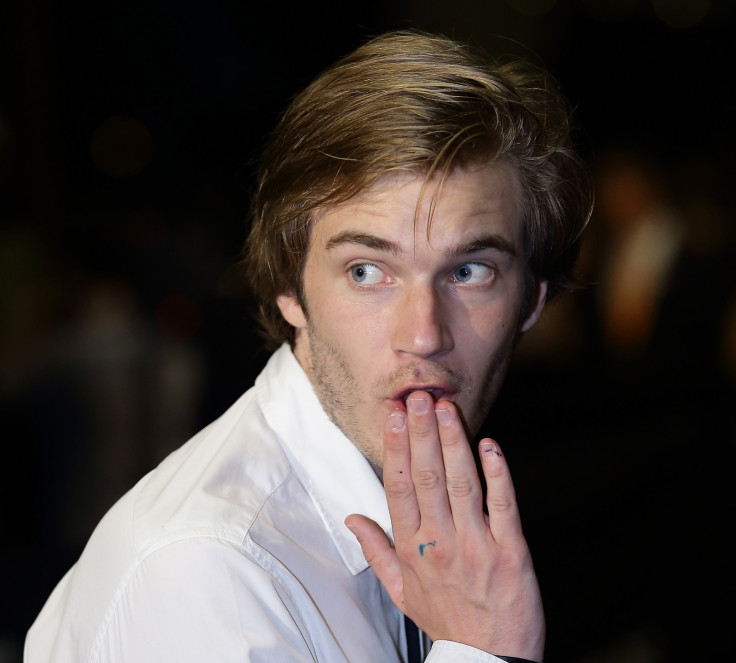 Despite requesting the hateful message to be displayed, and publishing the resulting video, PewDiePie apologised to fans at the end of the video – but still gave the performers a five-star rating.
He said: "I am sorry. I didn't think they would actually do it. I feel partially responsible. I mean I've got to give them five stars for an outstanding experience because at least they did what I asked."
He added: "I don't feel good. I don't feel too proud of this, I'm not gonna lie. I'm not antisemitic, or whatever it's called, okay so don't get the wrong idea. It was a funny meme, and I didn't think it would work, okay. I swear I love jews, I love 'em.
"I am so sorry. I don't know what else to say."
One YouTube user said: "I find this offensive bc some of my friends are jews."
Another added: "Pewds, I aint jewish, but I do understand they feel really bad now. I know you thought it was just for fun (you are really funny btw) but this went way to far."
It comes just days after PewDiePie caused controversy in a separate video that appeared to show him using the racial slur "n*****".
© Copyright IBTimes 2023. All rights reserved.