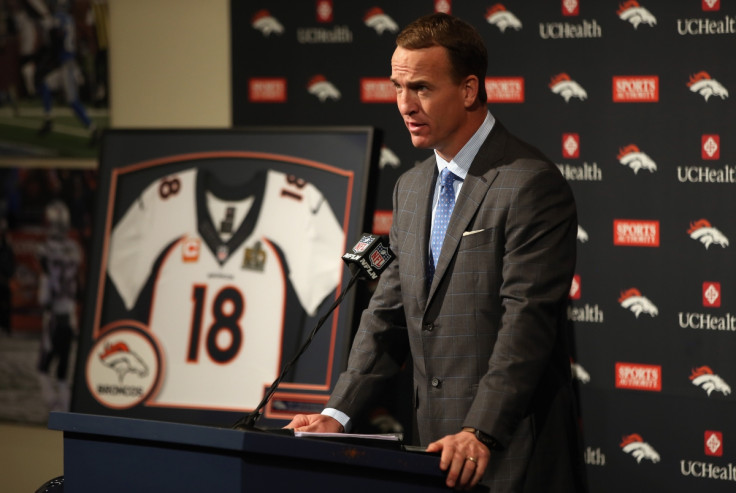 Exactly a month after helping AFC champions the Denver Broncos to a 24-10 victory over the Carolina Panthers at Super Bowl 50 in Santa Clara, California, Peyton Manning brought weeks of speculation over his future plans to an end on 7 March, confirming that he has now officially retired from professional American football.
In an emotional press conference the iconic quarterback, who holds multiple records in the NFL including the highest number of passing touchdowns (539), the most passing yards (71,940) and career earnings of approximately $400m (£281m), outlined the reasoning behind his decision to finally call it quits after 18 years. He received glowing tributes from Joe Ellis and head coach Gary Kubiak in addition to general manager and hall of famer John Elway.
Here, IBTimes UK brings you the most notable quotes from Manning's final media call...
On his decision to finally retire after a hugely difficult last season that ended in a championship ring but also saw the 39-year-old produce career-low numbers across the board..
"There is just something about 18 years. Eighteen is a good number and today I retire from pro football. I want to thank the people of New Orleans and south Louisiana. New Orleans is my hometown and of course they support their own team, the Saints, but they also support their own and that city and state have backed me from the start. Almost 19 years ago to the day, I announced my decision to forgo the draft and stay at the University of Tennessee for my senior year. It was one of the smartest decisions I've ever made. I cherished my time in Knoxville, especially my senior year. And I want Vols fans everywhere to know the unique role that you've played in my life."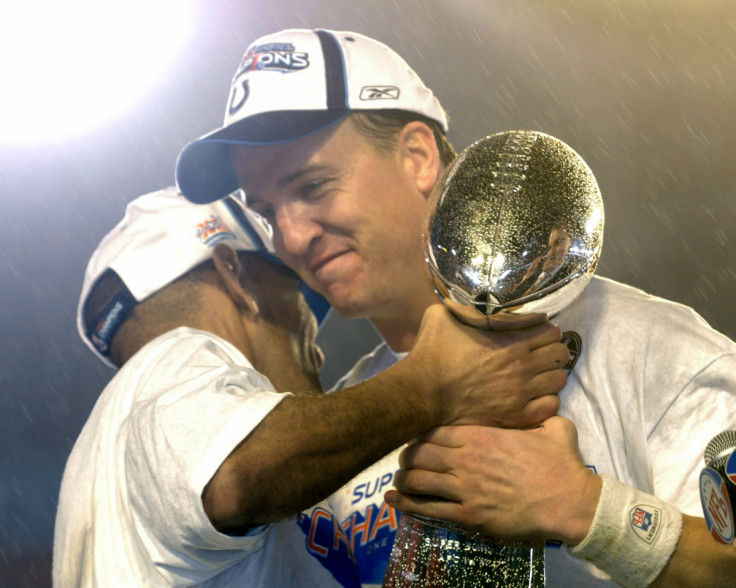 On his long stint with the Indianapolis Colts, where Manning spent 14 years after being drafted out of the University of Tennessee with the first overall pick in 1998. He also won Most Valuable Player (MVP) honours for his performance that spearheaded the organisation to their first championship in 36 years with a 29-17 win over the Chicago Bears at Super Bowl XLI...
"Thank you to the Indianapolis Colts organisation and all the fans across this country. You can't fathom how much I enjoyed my 14 years there or the warmth that my family feels for you. I'd be wrong not to mention Jim Irsay, Bill Polian, some great coaches, support staff and a host of wonderful Colts teammates, many of whom will be lifelong friends. When I was drafted by the Colts, Indianapolis was a basketball and a car racing town but it didn't take long for the Colts to convert the city and state of Indiana into football evangelists."
On the support of his family, which includes two-time NFL pro-bowl quarterback Archie Manning and younger brother Eli, who won two Super Bowl titles of his own during a 12-year stay with the New York Giants...
"There is no way to measure or properly express what a family like mine can mean. Mom, Dad, Cooper, Eli, extended family, you are the best. Ashley, your support is as potent a motivator as any man can have. Ashley and my kids, Marshall and Mosley, have only been around for a couple of years but they have changed my life forever. A week before the Super Bowl our daughter Mosley asked me, 'Daddy, is this the last game?'
"'Yes, Mosley, it's the last game of the season.'
"'I sure do want you to win that trophy.'
"'I do, too, Mosley. And that's what we're going to try to do.'
"Then she asked, 'Daddy, is this the last game ever?' And that's just when I shook my head in amazement because I was thinking, '[ESPN reporters Chris] Mort [Mortenson] and Adam Schefter had gotten to my 5-year-old daughter to cultivate a new source.'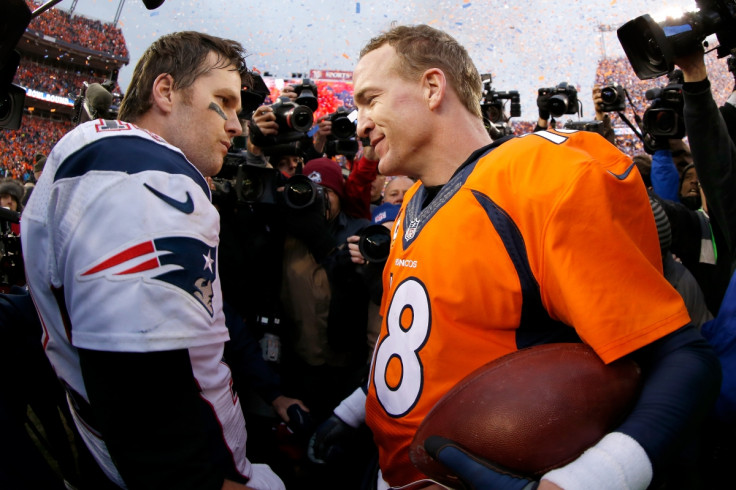 On his rivalry with Tom Brady and the New England Patriots, which included numerous memorable meetings in both the regular season and playoffs...
"I'll miss that handshake with Tom Brady and I'll miss the plane rides after a big win with 53 teammates standing in the aisles laughing and celebrating during the whole flight. I'll miss playing in front of so many great fans both at home and on the road. I'll even miss the Patriots fans in Foxborough, and they should miss me because they sure did get a lot of wins off of me."
To read a full transcript of Peyton Manning's retirement press conference, click here