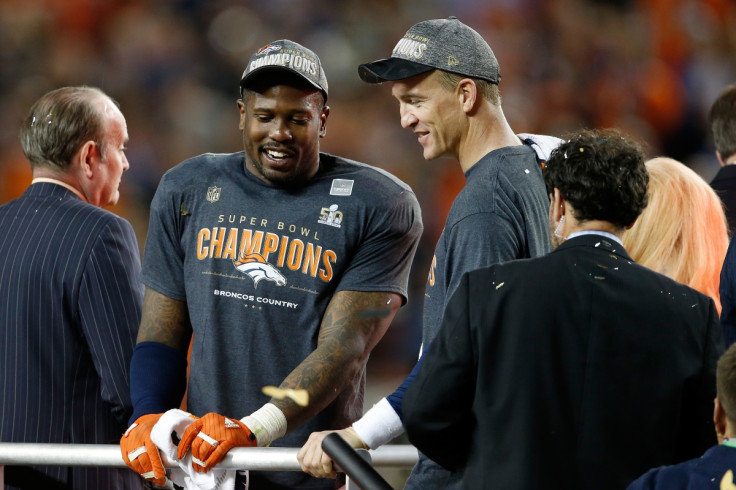 The Denver Broncos produced yet another stellar defensive effort to beat the Carolina Panthers 24-10 at Super Bowl 50 on 7 February. Outside linebacker Von Miller collected MVP honours as the AFC winners secured the third NFL championship in franchise history and the first since John Elway led them to victory in 1998.
Peyton Manning was solid if unspectacular at Levi's Stadium in Santa Clara, California, avoiding any pivotal errors as "The Sheriff" equalled younger brother Eli's haul of two Super Bowl rings in what could well be the last appearance of his illustrious 18-year career. Carolina counterpart Cam Newton, meanwhile, gave an uncharacteristically subdued performance as he struggled to generate any sort of momentum in the face of the sport's most ferocious and unforgiving defence.
The Broncos started in positive fashion, with kicker Brandon McManus notching a 34-yard field goal to cap off an opening drive during which Manning was happy to rely on the pass. Wade Phillips' superb defence then lived up to their fearsome reputation as Miller sacked and stripped Newton on his own three-yard line before Malik Jackson dived on the ball in the end zone to increase the lead. That score was somewhat controversial as it came just minutes after the officials had declined to overturn their decision to rule out what seemed a perfectly legitimate catch from Jerricho Cotchery.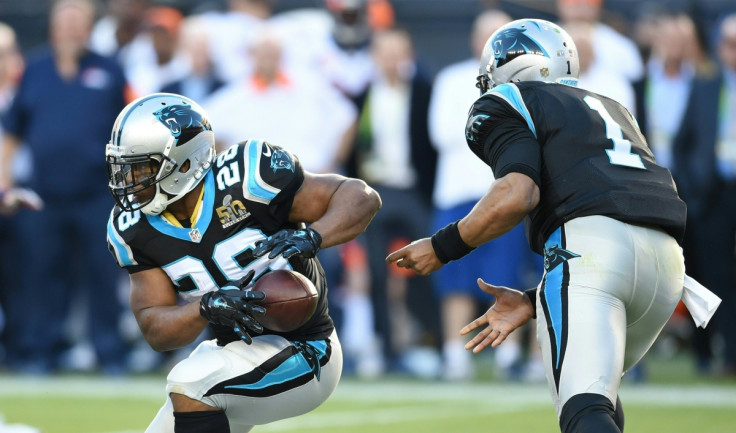 Jonathan Stewart sustained a foot injury in the first quarter and was initially deemed questionable to return. That did not stop the Panthers running back from demonstrating wonderful athleticism as he leaped high over linebacker Danny Trevathan for the one-yard score after a successful pass to Brown was followed by a facemask penalty on star cornerback Aqib Talib, who had earlier been whistled for taunting.
Unsurprisingly, the second quarter became something of a defensive battle that was only lit up by Jordan Norwood racing 61 yards to record the longest punt return in Super Bowl history. That excellent field position should have been the precursor for another Denver touchdown, but they instead had to settle for a second field goal after Louis Vasquez was punished for offensive holding on fourth down.
Manning threw an interception when pass rusher Kony Ealy dropped back into coverage to pick off his pass towards Emmanuel Sanders, but the out-of-sorts Panthers failed to capitalise and the opening half ended with a powerful sack from DeMarcus Ware.
Carolina kicker Graham Gano struck the upright with a 44-yard field goal after Cotchery had dropped a perfect pass from Newton to the right sideline that would have brought up first-and-goal at a crucial time.
McManus later made no such mistake and things went from bad to worse for Newton as his pass towards Ginn deflected off the receiver's hand before being intercepted by TJ Ward, who had Trevathan to thank for quickly recovering his subsequent fumble.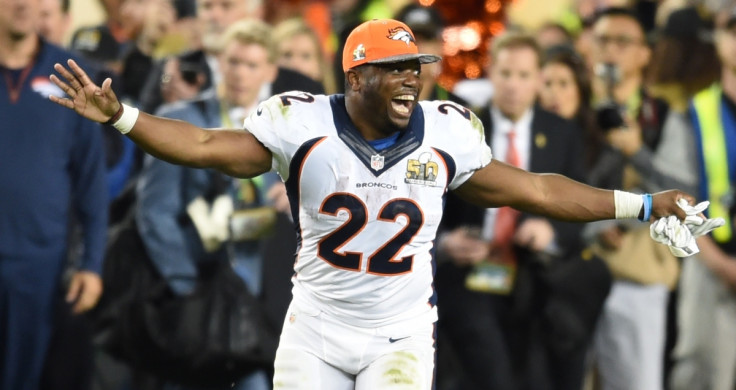 Ealy did his best to keep the Panthers alive as he stripped sacked Manning in the fourth quarter to continue a fine individual outing, but a field goal was scant reward as the irrepressible Miller later did the same to Newton before Ward dived on the loose ball. CJ Anderson then secured victory with Denver's only offensive touchdown of the night courtesy of a two-yard run up the middle that came after cornerback Josh Norman was penalised for holding on an incomplete pass to Demaryius Thomas.
Bennie Fowler escaped the attentions of safety Roman Harper to nail the two-point conversion and with a comfortable lead safely in the bag, all that was left then was for Wolfe and Ware to secure the Broncos' seventh sack of a memorable night on the west coast.