During the initial stages of the latest NFL season, just watching Peyton Manning proved a very arduous task. A behemoth of American football for almost two decades since being selected by the Indianapolis Colts with the first overall pick of the 1998 draft, the iconic quarterback and five-time MVP looked a shadow of his former self as a combination of multiple lingering injuries and repeated errors led to him being benched during the Denver Broncos' 29-13 home defeat to AFC West rivals the Kansas City Chiefs in November.
Unquestionably the worst performance of the 38-year-old's illustrious career, he trudged off the field in the third quarter at Sports Authority Field at Mile High having thrown for just 35 yards with no touchdowns, four interceptions and a frankly humiliating passer rating of 0.0. Rather ironically, such a forgettable day had actually started on a much brighter note after Manning broke former Green Bay Packers stalwart Brett Favre's record for the most passing yards in history with a short throw to running back Ronnie Hillman.
For all but his staunchest fans, that performance hardly came as a surprise. Bothered by persistent foot and rib problems in addition to a shoulder issue, the former Tennessee Titans star, who admitted in August 2015 that he had no feeling left in his fingertips due to previous neck surgeries, had been in decline for some time but repeatedly saw the Broncos saved and carried by a supremely talented defensive unit featuring the likes of Von Miller, DeMarcus Ware, Brandon Marshall, Danny Trevathan, Derek Wolfe, Chris Harris and Aqib Talib.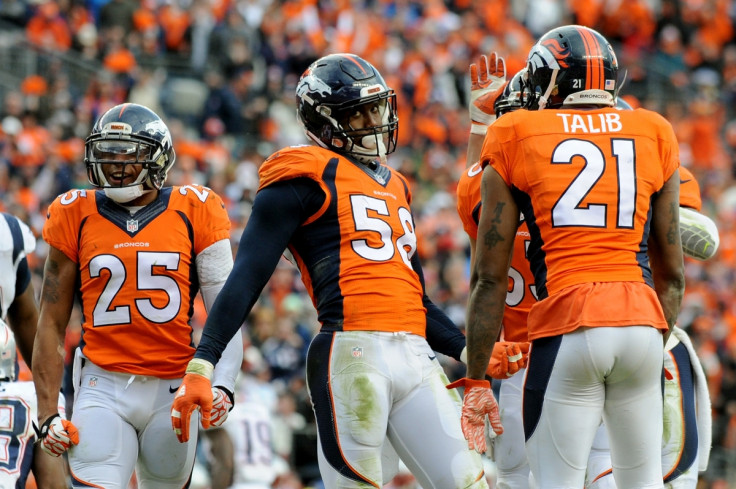 Run down and endlessly banged up, many could have been forgiven for asking if that was the last we had seen of Manning and his trademark "Omaha" audibles. However, with replacement Brock Osweiler's form having tailed off after a promising start, he returned to action six weeks later in the second half of the regular season finale against the San Diego Chargers before confidently leading the number-one seeded Broncos to a late win over Ben Roethlisberger and the Pittsburgh Steelers.
Then came the significant challenge of old rival Tom Brady and the New England Patriots in the AFC Championship Game. A mostly solid, if unspectacular, performance from the 14-time Pro-Bowl selection helped secure a place at Super Bowl 50, although yet again the defensive effort was stellar as a deflected Brady pass for a game-tying two-point conversion was deflected and subsequently picked off by rookie cornerback Bradley Roby.
In the build-up to the NFL's annual showpiece, much of the talk has inevitably been centred upon Manning's future beyond the weekend. Although he says he is yet to make a final decision on retirement, a post-game clinch with Bill Belichick in which he reportedly told the long-serving Patriots head coach that "this might be my last rodeo" would appear to hint that the issue is weighing heavily on his mind.
"I don't know the answer to that question right now," was the official line offered by Manning at this week's pre-Super Bowl media night when asked if this will be his final dance. NFL insider Ian Rapoport, meanwhile, has subsequently claimed that the player has already told close friends that he expects the clash with the Panthers to represent his last hurrah.
If that does prove to be the case, then we can only hope that the grandiose occasion showcases the very best of one of the game's most enduring and celebrated figures. Coming up against a similarly ferocious defence anchored by dominant linebacker Luke Kuechly and shutdown corner Josh Norman, he will need to be at his very best to outshine MVP-in-waiting Cam Newton and cement his legacy with a second championship ring.