Singer Phil Collins admits divorcing his third wife Orianne Cevey was a "mistake". The In The Air Tonight singer famously shelled out a reported £24.3m ($30.4m) in his divorce settlement with Cevey but Collins insists the couple's relationship is back on track.
The couple married in 1999 but Cevey ended their marriage nine years later in 2008 before moving to Miami with their two sons Matthew and Nicholas. In a surprising turn of events, Collins, 65, announced in January 2016 that he had reconciled with Cevey stating that they had become "best friends" again after the highly-publicised divorce.
Addressing their unexpected reconciliation, Collins told Australian news programme Sunday Night: "I'm back with my third wife now, which people find strange. But to me, it's wonderful. We got divorced... I paid her a lot of money. But that's divorce, you know. We realised it was a mistake and now we're back together and everything's great."
Collins had married twice before meeting Cevey – he tied the knot with Andrea Bertorelli in 1975 but ending their union in 1980, and he was also married to Jill Tavelman from 1984 to 1996.
Confirming longtime reports that he had been unfaithful to Tavelman, with whom he shares daughter Lily Collins, Collins added: "I was following my heart. But it turned out I was being a bit of a b*****d."
The former Genesis rocker has opened up on his famously turbulent love life in his new autobiography Not Dead Yet. Collins writes: "I am disappointed I've been married three times... I'm even more disappointed that I've been divorced three times.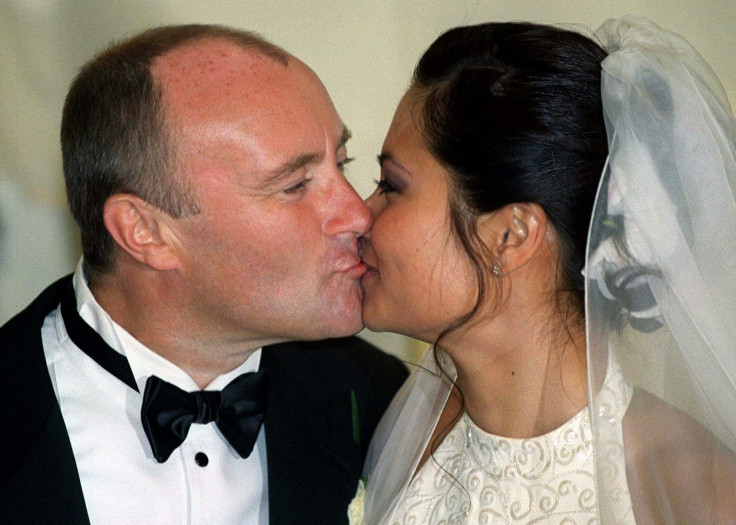 "While three divorces might seem to suggest a casual attitude towards the whole idea of marriage, this couldn't be further from the truth. I'm a romantic who believes, hopes, that the union of marriage is something to cherish and last. Yet certainly that trio of divorces demonstrates a failure to co-exist happily and to understand my partners. It suggests a failure to become and stay, a family. It shows failure, full stop."
Collins has emerged from his brief retirement and is in the midst of making his comeback with a string of tour dates announced for 2017. The Not Dead Yet Live! shows will include a five-night stint at London's Royal Albert Hall in June. The singer will also headline the British Summertime Hyde Park festival on Friday 30 June 2017.