Phil Collins fans have been left devastated after tickets for the singer's comeback tour sold out within seconds. Tickets were released at 9am on 21 October for his 2017 shows, but many were unable to purchase prompting touts to hike-up prices to as much as £2,000 ($2,400) on the secondary marketplace.
Collins, 65, will break his retirement to perform a five-night residency at London's Royal Albert Hall in June before moving onto Cologne and Paris. Fans rushed to websites like Ticketmaster to snap up seats but were furious after being re-directed to the company's secondary website Get Me In, which allows users to sell tickets for higher prices.
One complained: "All tickets sold out but hey you can pay a fortune for them on Ticketmasters get me in website #gofigure #philcollins," while another weighed in: "The brazen effrontery of @TicketmasterUK saying #PhilCollins sold out then directing you to their own tout @GETMEIN is breathtaking."
Criticising the ticket prices on Get Me In, where tickets range from between £253 to £2,000 for one Royal Albert Hall date, one unimpressed consumer tweeted: "How is anyone ever supposed to get tickets for an event below the price of a monthly mortgage payment! #tickettouts #philcollins #soldout," while another said: "Only reason #PhilCollins is sold out is ticket master put tickets on 'get me in' at £700 each loads there."
Interest in Collins' tour is sky-high given it will be the iconic singer's first set of live shows in 10 years. Explaining his decision to emerge from retirement, Collins said: "I thought I would retire quietly. But thanks to the fans, my family and support from some extraordinary artists I have rediscovered my passion for music and performing. It's time to do it all again and I'm excited. It just feels right."
The Against All Odds singer is already enjoying success as streams of his music on Spotify have seen a 94% increase. In addition to the tour, Collins has released a new memoir entitled Not Dead Yet: The Autobiography, which recounts his experiences with marriage and career as a solo artist and as a member of Genesis.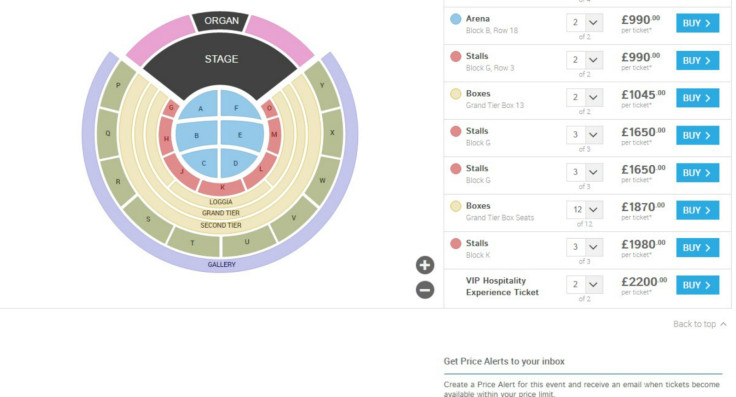 Phil Collins 2017 tour dates
4 June – Royal Albert Hall, London
5 June – Royal Albert Hall, London
7 June – Royal Albert Hall, London
8 June – Royal Albert Hall, London
9 June – Royal Albert Hall, London
Germany:
11 June – LANXESS Arena, Cologne
12 June – LANXESS Arena, Cologne
France:
18 June – Accor Hotels Arena, Paris
19 June – Paris Accor Hotels Arena, Paris