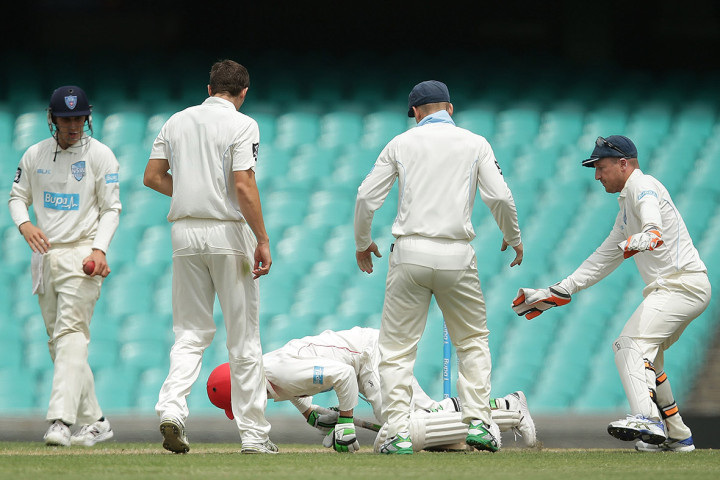 The disturbing video of batsman Phil Hughes being knocked out by a bouncer is being "actively sought" by the company that designed the Aussie's cricket helmet.
Hughes remains in a coma after being struck by a ball near to his ear while playing for South Australia against New South Wales.
The ball missed all the head protection gear Hughes was wearing at the time, sparking questions about safety.
Masuri designed the helmet and the company claims its models are worn by the most cricket players, meaning there could be a potential hazard for others.
The firm has begun gathering footage from all different angles of the accident, a spokesman said.
"Following the injury to Phil Hughes, Masuri is actively seeking as much TV and video footage of the incident as possible, to be able to see more conclusively exactly where the player was hit.
"From the footage and pictures currently available to Masuri, it appears that Phil Hughes was struck by the ball to the rear of the grille and below the back of the shell, missing his Masuri Original Test model helmet.
"This is a vulnerable area of the head and neck that helmets cannot fully protect, while enabling batsmen to have full and proper movement."
Masuri managing director Sam Miller said: "The thoughts of everyone at Masuri are with Phil Hughes and his family.
"Helmet manufacturers are constantly developing their products to make them safer.
"We work continuously with the governing authorities worldwide to reduce the risk of injury to players."