A British adventurer has frozen to death during a vicious storm at the start of a 400-mile trek across a Greenland glacier.
Philip Goodeve-Docker, from Ealing in west London, perished when the storm, known as a Piteraq, blew down the tent he was sharing with two fellow explorers on Friday evening.
Although the three trekkers managed to contact the emergency services, rescuers were not able to reach them until Saturday morning, by which time Goodeve-Docker, 30, was already dead.
The victim's companions Andy Norman, 33 and Roan Hackney have survived despite suffering frostbite and shock.
Paul Piterson, chief inspector of the Greenland Police, told the Daily Mirror that a Piteraq "is quite rare but can happen at this time of year on the glacier.
"Their tent was blown partially away and they were exposed. One of the men said they thought Mr Goodeve-Docker had probably died during the night.
"The other men are okay and are on their way back to the UK. One has frostbite on his fingers and the other is suffering from shock, but they will both recover."
The three explorers were just two days into a 30-day expedition, aiming to cross the world's second-biggest icecap unsupported.
Each member of the team was dragging his own supplies, weighing up to 130kg, on sleds. Goodeve-Docker's justgiving page described the grave dangers they would encounter, which included polar bears, 500-metre crevasses and temperatures as low as -50 degrees celsius.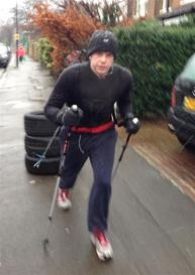 Goodeve-Docker, who had been training for 18 months, was attempting to raise over £5,000 for The Queen's Nursing institute.
Following news of his death, the victim's justgiving page has been inundated with donations and messages of support.
One donor, Carole Fraser, has written: "Phil you were a true gentleman. I will always remember you with affection."
Another, Amelia Williams, said: "Such good memories of a wonderful chap that was and is Philip Goodeve-Docker and it will keep you alive to all of us for an eternity."
Yesterday a donor identified simply as Michelle wrote: "Sleep well warrior. We take on these challenges to make a difference. You have."