The Philippine National Police have said they are searching for three individuals, two female and a male, in connection with the Friday (2 September) blast at a night market in President Rodrigo Duterte's hometown Davoa. The death toll from the deadly blast has hit 15, with at least 70 people reported injured.
The Philippines-based Islamist militant group Abu Sayyaf claimed responsibility for the attack, just a day after it threatened "soldiers of Duterte" with a frontal attack. On the orders of the president, Filipino forces launched an offensive against the Islamic State (Isis)-linked terrorist group, gunning down more than 30 of them in the course of a week in Sulu province.
Director General of Police Ronald dela Rosa told media persons that witness accounts indicated that there were three people who could have either planted or detonated an improvised explosive device (IED) at the Roxas Avenue night market. Without revealing much about the three suspects, Dela Rosa said they were trying to match the descriptions given by the eyewitnesses about the three people with a gallery of 10 terrorists in police records.
He added that they were awaiting a post-blast report of the Explosive Ordnance Disposal unit. The explosive device was crafted from a mortar round, initial investigations of the fragments taken from the blast site showed, he said.
The police chief added that the explosive closely resembled the signature IED used by Abdul Manap Mentang, the absconding suspect in the Valentine's Day bombing of the Davao City Ecoland Terminal in 2005. He hinted that Mentang could be behind the latest blast, the Philippines Star reported.
Manuel Gaerlan, director, Police Regional Office XI, said they have eight eye witnesses who could help in the investigation.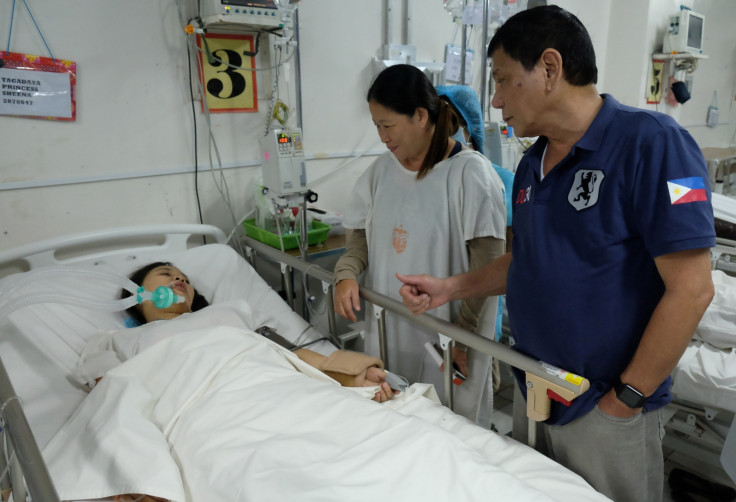 Meanwhile, Duterte, who declared a "state of lawlessness" in the country following the blast, denied that the explosion was a result of intelligence failure. He was quoted by the Philippines daily that the government had expected reprisals from Abu Sayyaf, which was hit hard by the government forces.
"We were forewarned. We were ready and all of the commanders are here, even (Nicanor) Faeldon of the Bureau of Customs and the intelligence heads are here," Duterte was quoted as saying.
"Unfortunately, we cannot frisk or order people to stop because it would be fascistic. That is the price of being in a democratic state," he said, urging people to remain calm and vigilant.