Philippines President Rodrigo Duterte has called the Davao explosion an act of terrorism. He has also put the entire country under a 'state of lawlessness' on Saturday (3 September) after the attack at the city market left at least 14 people dead and around 70 wounded.
He said declaration would not amount to an imposition of martial law but it was necessary to increase patrols to allow police and military officials to carry out searching and frisking operations of vehicles and people at checkpoints.
"We have to confront the ugly head of terrorism" CNN quoted Duterte as saying from the scene of the attack. "We will take this a police matter about terrorism."
"These are extraordinary times and I supposed that I'm authorised to allow the security forces of this country to do searches." He also clarified that he had not suspended the writ of habeas corpus.
The president also asked his people to cooperate with the security measures and be vigilant as he inspected the scene of Friday (2 September) night's attack on Roxas Avenue at Davao city, his hometown. He served as the mayor of the city before he stood for the presidential elections in May.
"We're trying to cope up with a crisis now. There is a crisis in this country involving drugs, extrajudicial killings and there seems to be an environment of lawless violence," Associated Press reported.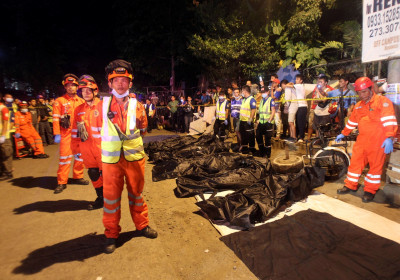 Under the constitution of the Philippines, the 'state of lawlessness' declaration will give all the powers to the president and he will remain in charge of all armed forces and states.
According to CNN affiliate ABS-CBN, the Abu Sayyaf Group (ASG) has claimed responsibility for the explosion. Its spokesperson Abu Rami said the attack was a "call for unity to all mujahideen in the country" and warned of similar attacks in the future.
However, the investigators were reportedly looking at other possible suspects. Duterte said it could be an act of drug syndicates as he has targeted them in his crackdown of illegal drugs in the country.
The attack is reported to have come at a time when the Philippines authorities were on an alert amid an ongoing military offensive against the ASG militants in southern Sulu province. The offensive intensified last week after the extremists beheaded a kidnapped village.
The group had also reportedly threatened to carry out unspecified attacks after the Filipino military had said it killed 30 gunmen in its weeklong offensive.
A presidential spokesperson Martin Andanar said the components of the suspected bomb that were found at the scene appeared to have been made from a mortar round. AP said doctors reported that many of the victims had shrapnel wounds.